Kung Pao Cauliflower
This Kung Pao Cauliflower is a healthy spin on one of my favourite Chinese dishes that packs a serious punch of flavour. It's a great vegetarian and vegan alternative to the traditional spicy dish that is Whole30 and Paleo and takes just 30 minutes to make!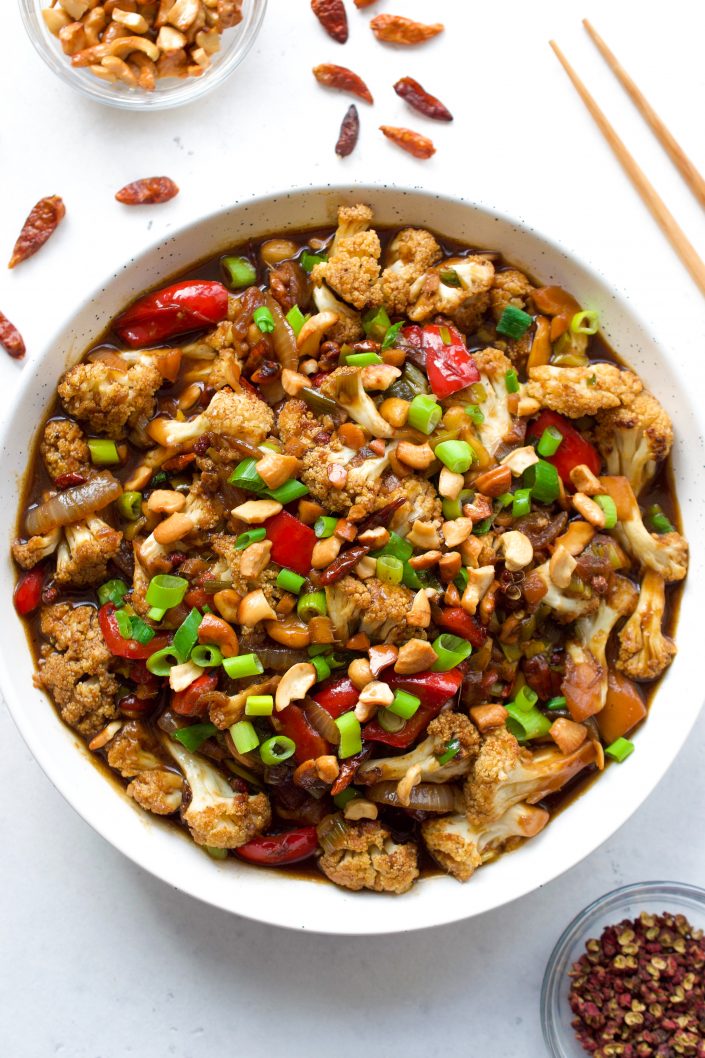 This is the perfect weeknight dinner to quickly whip together in 30 minutes when you are looking for a meat free dish. As someone who eats a lot of chicken, I often struggle to feel satisfied with vegetarian dishes. That was definitely not as issue with this Kung Pao Cauliflower. The slightly charred chunks of oven roasted cauliflower are tossed with a simple 5 ingredient sauce and mixed with a fragrant combination of garlic, ginger and chilies. The florets absorb a lot of the spicy sauce making every bite incredibly flavourful. Leftovers will last for 3 days in the fridge and are delicious enjoyed warm or cold.
Why you are going to love this recipe
It takes less than 30 minutes to make
By swapping cauliflower for chicken, it's a great way to cut back on meat consumption
The cauliflower florets absorb the sauce making each bite packed with flavour
Szechuan peppercorns give this dish a lip tinglingly spicy kick, so fans of spicy food will LOVE this dish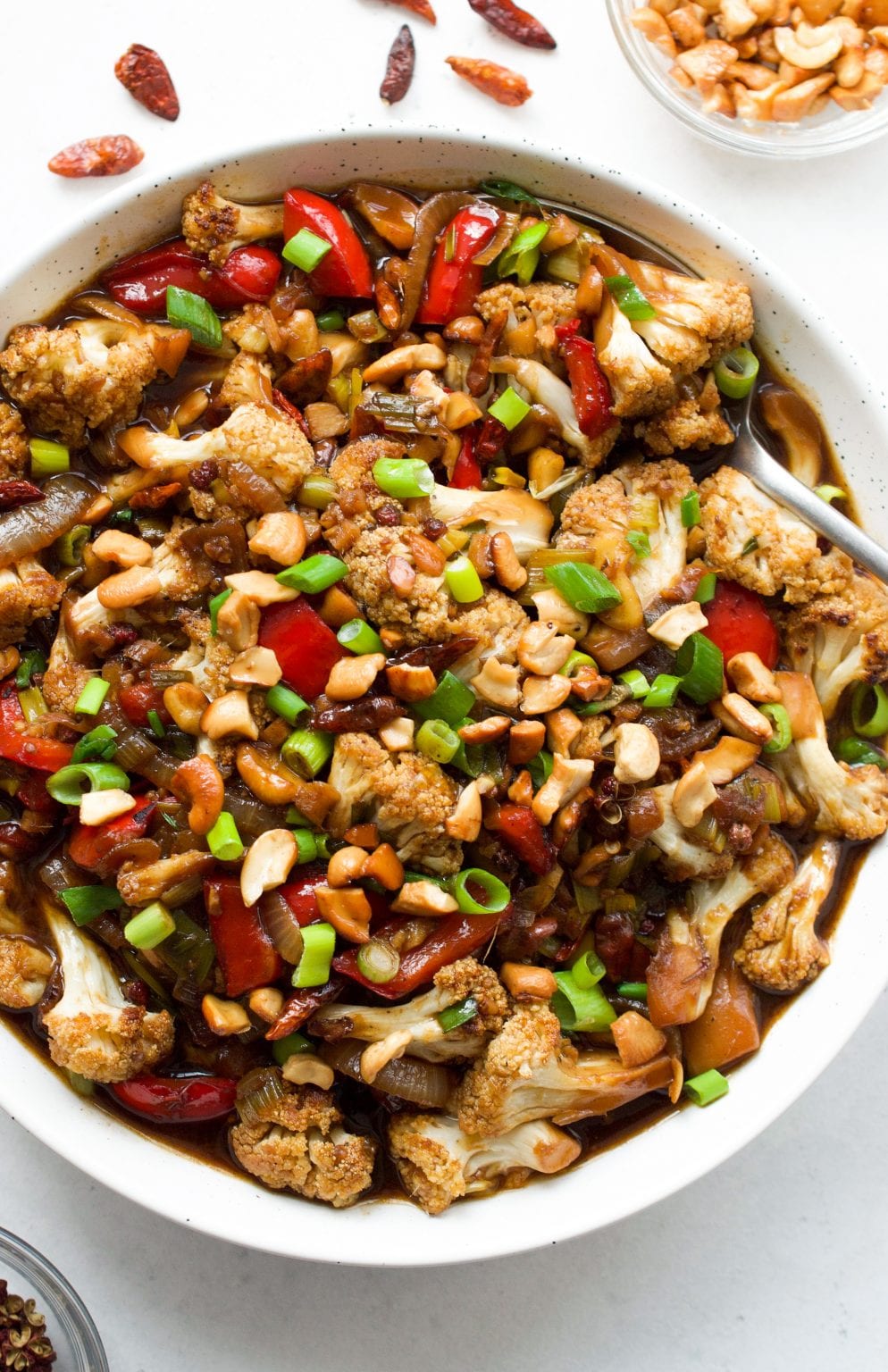 Looking for other Chinese inspired recipes? Here are a few other dishes that you might enjoy:
---
If you make this recipe let me know in the comment section below, I would love to hear what you think or take a photo and tag me (@everylastbite_) on Instagram, I love seeing your photos!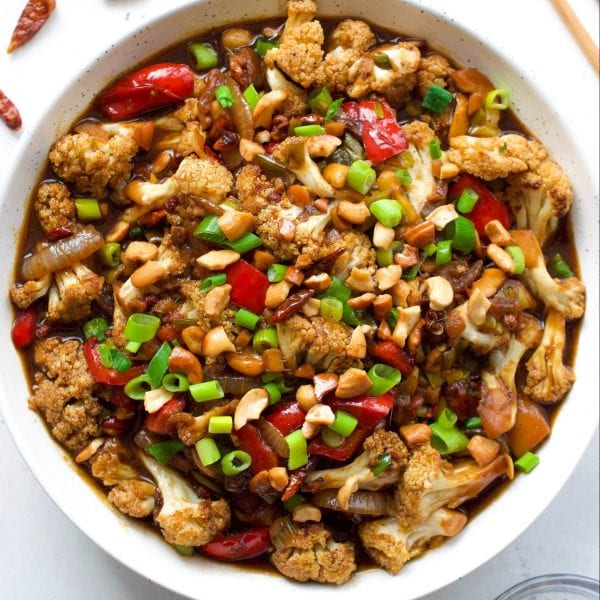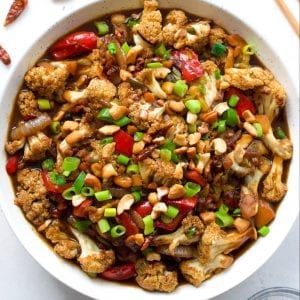 Ingredients
Cauliflower
1 large head cauliflower
2 tbsp coconut aminos
1 tbsp apple cider vinegar
1/2 tsp salt
1 tbsp sesame oil
1 red bell pepper cut into small 1 inch pieces
1 onion, thinly sliced
4 cloves garlic crushed
2 tbsp finely diced ginger
1 tsp szechuan peppercorns
2 tbsp small red chilies
1/3 cup chopped scallions
1/4 cup chopped toasted cashews
Sauce
3 tbsp chicken or vegetable stock
2 tbsp apple cider vinegar
2 tbsp balsamic vinegar
2 medjool dates (or 2 tbsp honey)
3 tbsp coconut aminos
Instructions
Preheat the oven to 425º Fahrenheit (220º Celsius)

Cut the cauliflower into small bite sized florets and place them on a large baking sheet.

In a bowl whisk together the coconut aminos and apple cider vinegar and drizzle it over the cauliflower. Sprinkle with salt and use your hands to gently toss the florets to ensure they are all well coated. Bake the cauliflower in the oven for 12 minutes until it's tender. After 12 minutes turn the oven up to broil and broil the cauliflower for 3 minutes until the florets are beginning to slightly char on the edges.

While the cauliflower is cooking prepare the sauce. In a nutribullet container or high speed blender combine the sauce ingredients and blend until smooth. Pour the sauce into a sauce pan and leave to boil on medium high heat for 6-8 minutes until the sauce has thickened and reduced by half.

Heat the sesame oil in a large skillet or wok on medium high heat. Once hot add in the sliced bell pepper and onion and cook for 4-5 minutes until the pepper softens. Next stir in the garlic, ginger, red chilies and szechuan peppercorns and cook for 2 minutes until the garlic becomes fragrant.

Add the cauliflower florets, scallions and chopped cashews into the skillet and pour the sauce overtop. Using a spatula gently stir the cauliflower to ensure that they are all well coated in the sauce. Leave to cook for another 2-3 minutes before serving.