Szechuan Chicken Thighs
These Szechuan Chicken Thighs are lip tinglingly spicy and so good! They take less than 30 minutes to make and are perfect for weeknight dinner. This chicken is Paleo, Whole30 and SCD.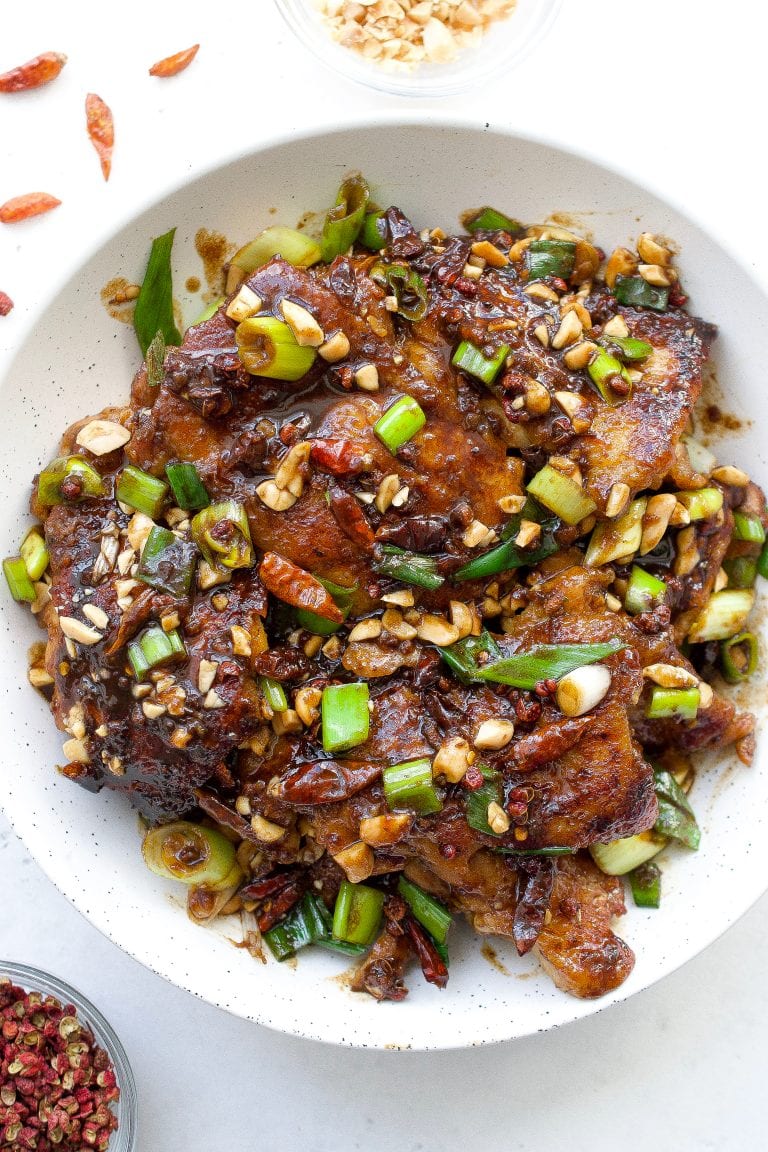 This szechuan chicken is lip tinglingly good and perfect for anyone who likes a good kick of spice. I used my all time favourite cut of chicken (boneless, skin-on thighs) to reduce the cook time to less than 30 minutes while still getting that delicious crispy skin that I love. Removing the bones from chicken thighs takes just minutes and it well worth the effort, but if you prefer to leave the bones in, I recommend transfering the seared thighs to a 450ºF oven for 12-15 minutes to cook through.
The sauce on these thighs is so good! It's rich and has a great hit of spice thanks to the birds eye chilis and szechuan peppercorns. I buy my szechuan peppercorns off Amazon but you should also be able to find them at an asian market. They are a great spice to have in your cupboard to add into asian dishes when you want a bit of heat.
The chicken thighs are cooked until crispy and then smothered in the delicious spicy sauce and garnished with lots of chopped cashews and scallions. I recommend serving this Szechuan chicken with a side of cauliflower rice to absorb all of the excess sauce. Leftovers will last for up to 4 days in the fridge.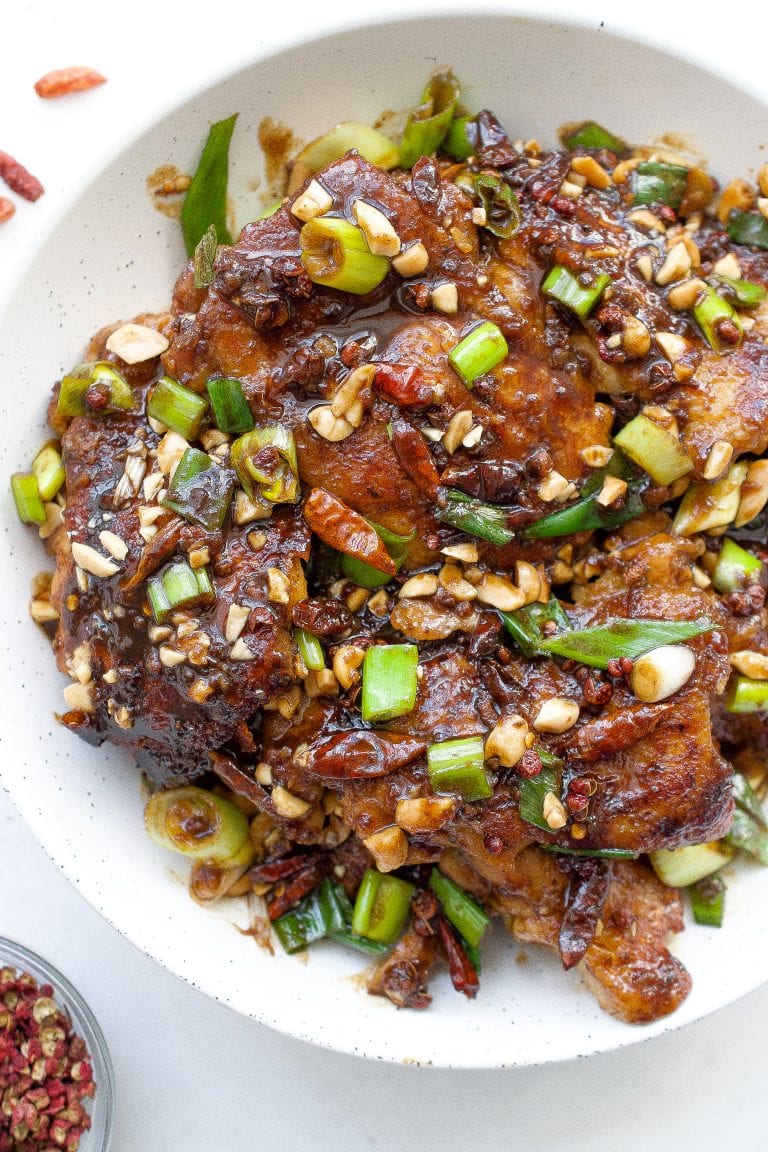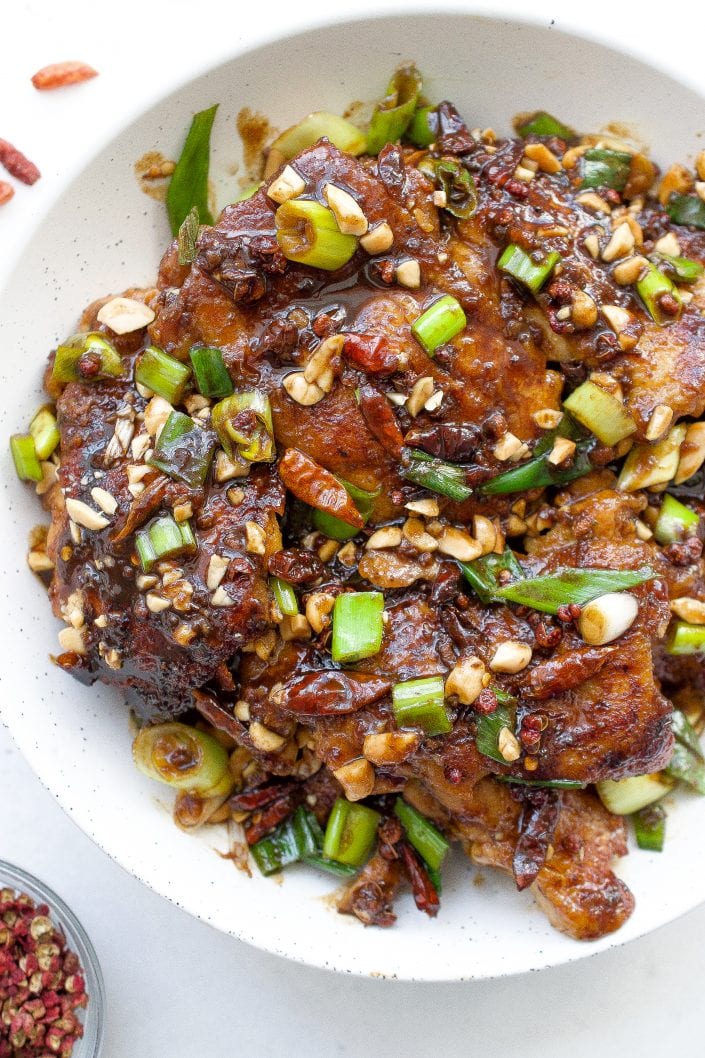 Looking for other takeout fakeout recipes…
---
If you make this recipe let me know in the comment section below, I would love to hear what you think or take a photo and tag me (@everylastbite_) on Instagram, I love seeing your photos!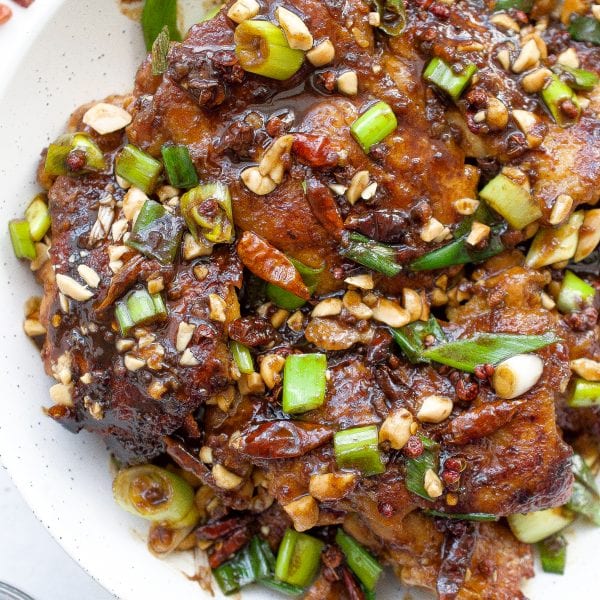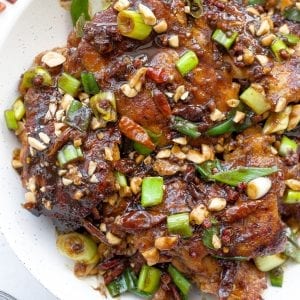 Ingredients
2 pounds bone-in skin-on chicken thighs
1 tbsp olive oil
2 tbsp chicken stock
1 1/2 tbsp honey (or 2 medjool dates soaked in hot water for 10 minutes)
1/4 cup coconut aminos
2 tbsp balsamic vinegar
1 1/2 tbsp apple cider vinegar
1 tbsp sesame oil
2 cloves garlic crushed
1 tsp szechuan peppercorns
2 tsp dried bird eye chilies
1/4 cup chopped scallions
1/4 cup chopped cashews (or peanuts if not paleo/whole30)
Instructions
To prep the chicken, lay the thighs on a cutting board, skin side down. Run a knife down both sides of the bone in the middle and then using kitchen scissors pull the bone up with your fingers and cut the meat away from the bone until it is completely detached. Repeat with the remaining thighs. 

Heat the oil in a non stick skillet on high heat. Working in batches of 3-4, place the thighs skin side down and leave to cook for 4 minutes until the skin is golden in colour and crispy. Flip the chicken over and cook for another 5-6 minutes on the other side until the chicken is cooked through. Place the cooked chicken on a plate in the oven set to the lowest temperature just to keep warm while you cook the remaining thighs.

To make the sauce, in a nutribullet container or blender add the chicken stock, dates/honey, coconut aminos, balsamic vinegar and apple cider vinegar and blend until completely smooth.

Once all of the chicken is done cooking, lower the heat to medium and add the sesame oil to the pan. Add the crushed garlic, szechuan peppercorns and dried birds eye chilies to the pan and cook for 1 minute and then pour in the sauce and leave to simmer for 4 minutes until it begins to reduce and thicken.

Place all of the cooked chicken in a large bowl with the cashews and scallions. Pour the sauce from the pan overtop and use tongs to toss the chicken so that all of the thighs are coated in the sauce. Serve immediately