Chicken Yakitori
These Whole30 Chicken Yakitori skewers are a healthy spin on the traditional Japanese street food. The chicken is moist and tender and coated in a sticky sweet and salty teriyaki sauce. They are Whole30 and Paleo and take less than 30 minutes to make, perfect for weeknight dinner.
This is a fun and easy to prepare Japanese inspired recipe that is great for weeknight dinner. In my opinion anything served on skewers is always more fun to eat, and chicken is no exception. Chunks of cubed chicken thighs are grilled on skewers with sliced scallions and asparagus and smothered in a delicious sweet and salty teriyaki sauce. Although chicken breasts would work for this recipe, I recommend using  thighs which have a higher fat content and will result in more moist and tender chicken when grilled.
I like to double the recipe so I have enough left in my fridge to eat over a few days. You can add them into a salad, serve them with coconut cauliflower rice and sauteed veggies, or just grab a skewer to snack on when you are hungry.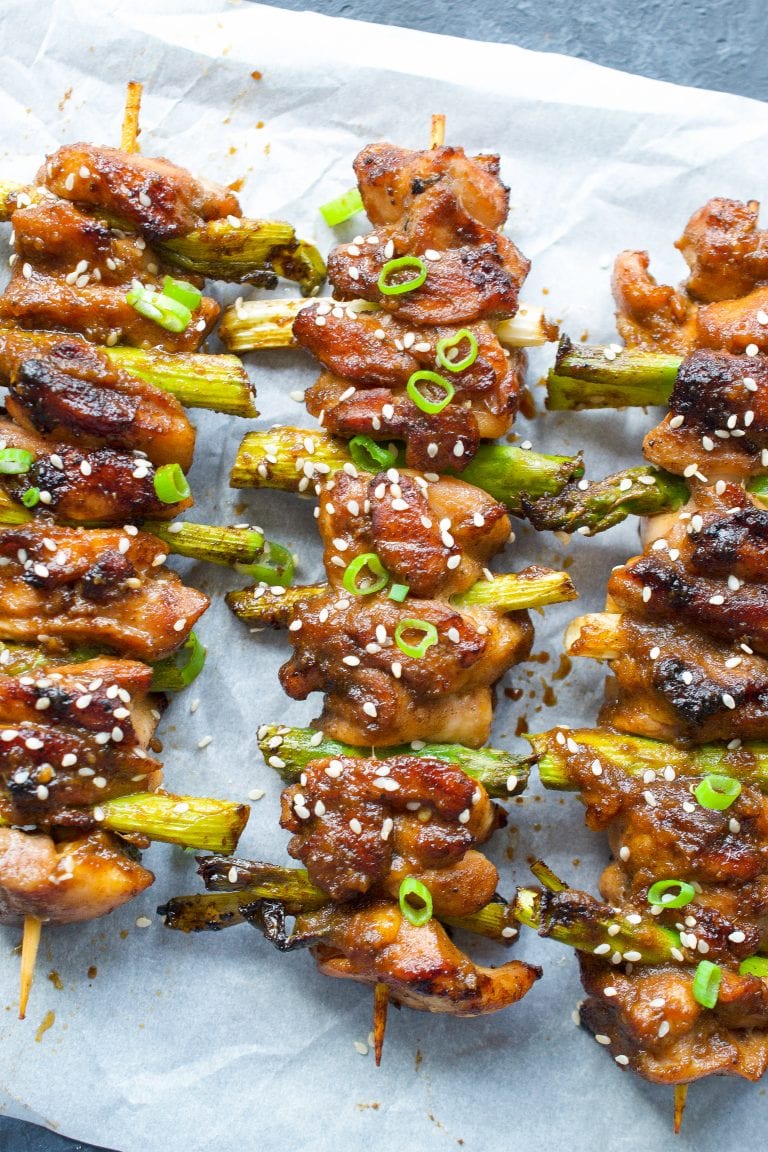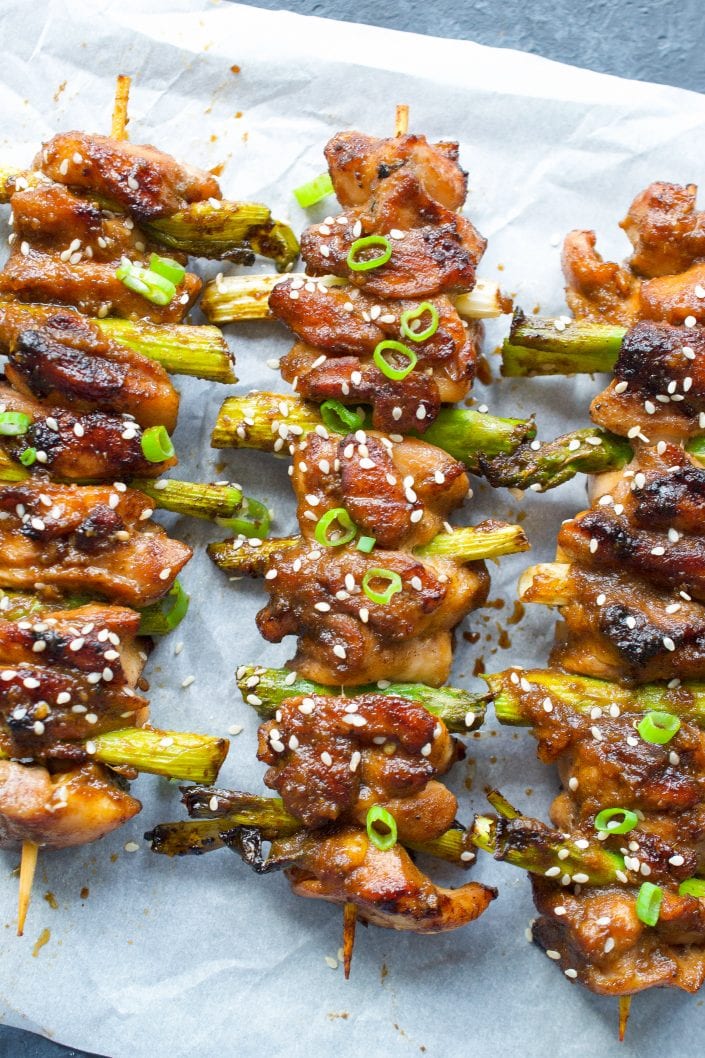 Why you are going to love these Whole30 Chicken Yakitori skewers:
They are fast and easy to make: there is no need to leave the chicken to marinate for longer than a few minutes thanks to baking soda. Basting the chicken in the sauce while it grills, as well as right before serving also helps to ensure the chicken is really flavourful. 
You can switch up the veggies depending on what you have in your fridge: shiitake mushrooms, bok choy or eggplant would also work well.
They can be enjoyed in an endless number of ways: Cut them in half and enjoy mini skewers as an appetizer with dipping sauce on the side, on a bed of cauliflower rice with sauteed veggies or in a simple asian inspired salad 
Don't have a BBQ? You can grill these in a sandwich press, on a grill pan or even in the oven at 350º for 15 minutes.
Not a fan of chicken? You can swap the chicken for cubed pork or beef, or even shrimp or salmon. For vegetarians use meatier vegetables such as eggplant and mushrooms.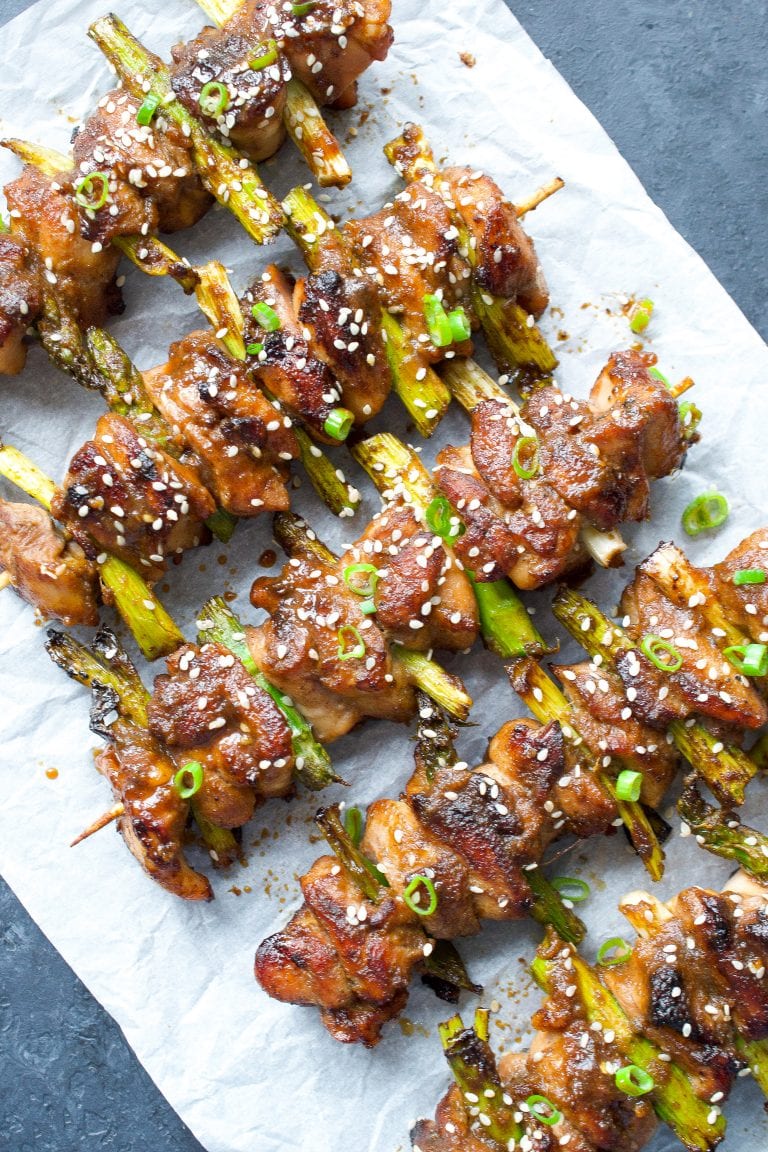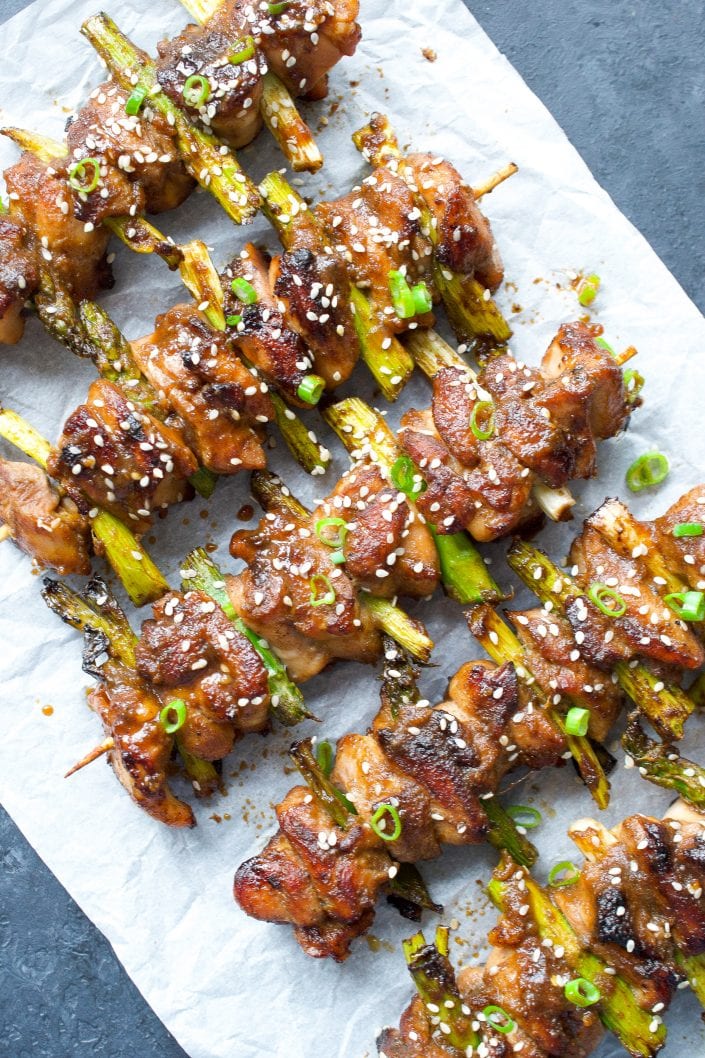 Here are a few other Asian inspired chicken recipes that you will love:
---
If you make this recipe let me know in the comment section below, I would love to hear what you think or take a photo and tag me (@everylastbite_) on Instagram, I love seeing your photos!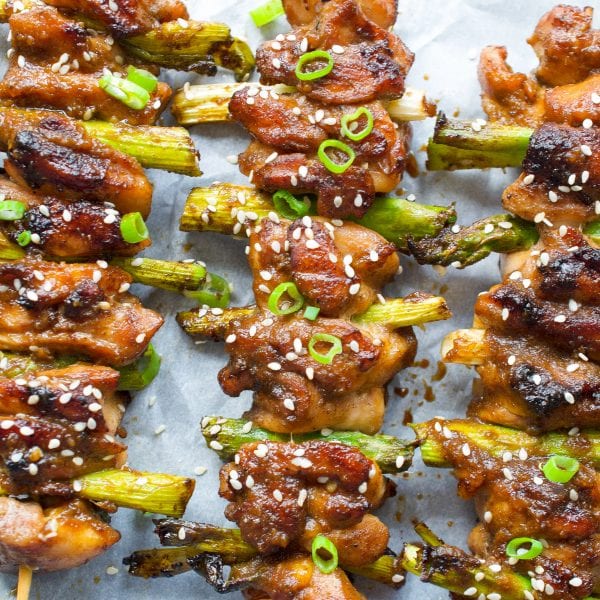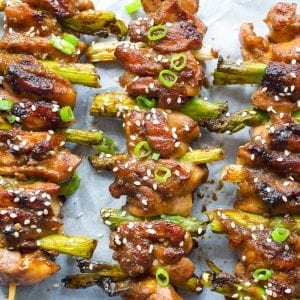 Ingredients
Chicken
6 boneless skinless chicken thighs
1/2 tsp baking soda
1 tbsp coconut aminos
1 tbsp apple cider vinegar
Teriyaki Sauce
2 cloves garlic
2 medjool dates
1 inch piece ginger
1/4 cup apple cider vinegar
1/3 cup coconut aminos
1/2 tsp white pepper
1 tbsp water
Skewers
1 bunch scallions (approx 8 scallions)
8 asparagus spears
1/2 tbsp sesame oil
1 tsp sesame seeds
Instructions
Cut the chicken thighs into even 1 inch sized cubes and put them in a bowl. Add in the baking soda, apple cider vinegar and coconut aminos and stir to ensure all of the chicken is coated in the sauce.

In a high speed blender or nutribullet combine the teriyaki sauce ingredients and blend until smooth. Pour the sauce into a pan on high heat and leave to boil for 5 minutes until it begins to thicken. Remove from the heat and pour half of the teriyaki sauce in a bowl and set aside in the fridge. Pour the second portion in a bowl to use for basting.

Cut both the scallions and asparagus into 2 inch pieces. Alternating between chicken, a pieces of scallion and an asparagus spear, thread each onto the skewers until the skewers are full.

Heat a grill pan or barbecue on medium high heat and lightly grease with sesame oil. Place the skewers on the grill, generously brush with the teriyaki sauce and cook for 3 minutes before flipping and cooking for another 3 minutes. Be sure to brush the skewers after flipping each time. Flip the skewers and cook for 2-3 more minutes until the chicken is cooked through.

Brush the skewers with the reserved teriyaki sauce and garnish with sesame seeds before serving.
Equipment
6 inch bamboo or metal skewers