Moroccan Chicken Skewers with Cauliflower Couscous
These richly flavoured Moroccan Chicken Skewers are a great addition to your summer barbecue. They are Whole30 and Paleo and are fantastic served with a refreshing grain free couscous salad. The entire meal comes together in just 30 minutes!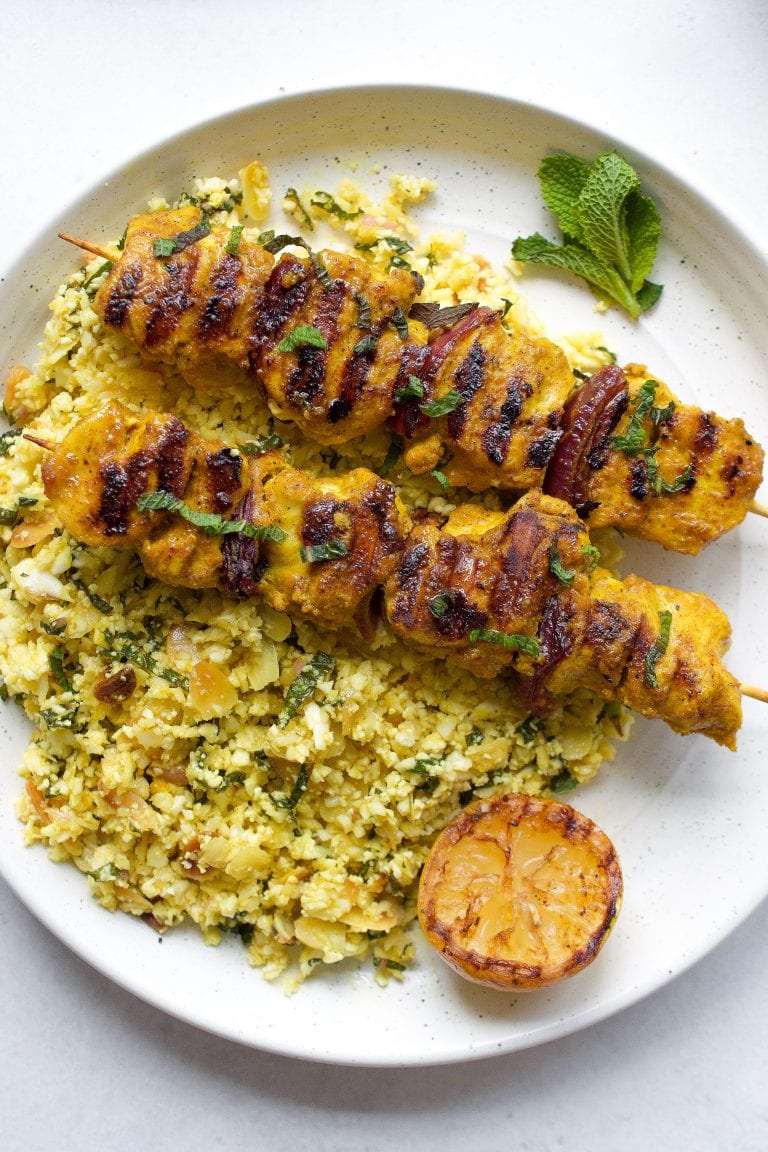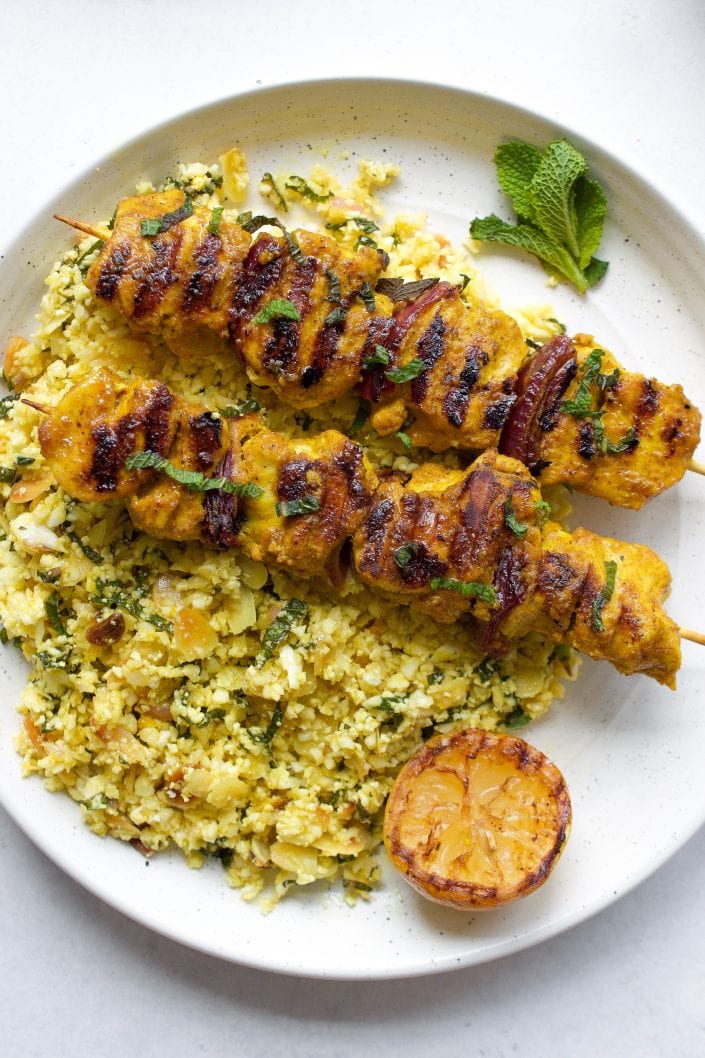 I love the rich flavour of these Moroccan Chicken Kebabs! They have a wonderful balance of spice, acidity and freshness that make them a great alternative to typical grilled chicken. This recipe has two components, the chicken skewers and the "couscous" salad which can each be served on their own, or together as a meal (which I highly recommend). 
The flavour of the chicken will be best if it's left to marinate in the sauce for an hour or so, but if you are short on time don't stress, it will still be delicious if it's simply tossed in the sauce before cooking. During the warmer months you can cook these on a barbecue, and during the fall or winter, inside in the oven, on a grill pan or even in a sandwich press (which is how I cook them.) I prefer using chicken thighs as I find they have more flavour, but chicken breasts work well too! 
Mint Couscous Salad
Cauliflower is a great grain free and low carb alternative to couscous: I love using very finely ground cauliflower as a grain free alternative to couscous. It has a light powdery texture that is a great base for a salad. To make it simply put cauliflower into a food processor and blend it for about twice as long as you would to make cauliflower rice. If you plan to use premade cauliflower rice, put it in the food processor to grind it down.
It's light a fresh: the "couscous" is mixed with lots of fresh mint that really lightens up the salad. If you don't have mint you could use parsley instead. 
The dressing is super simple: It's just olive oil, red wine vinegar and a small amount of turmeric which gives the salad a yellow tinge
The salad only gets better as it sits:  The "couscous" softens once it has been tossed in the dressing, and the flavour improve.  I recommend making it 20 minutes in advance and leaving it to sit at room temperature before serving.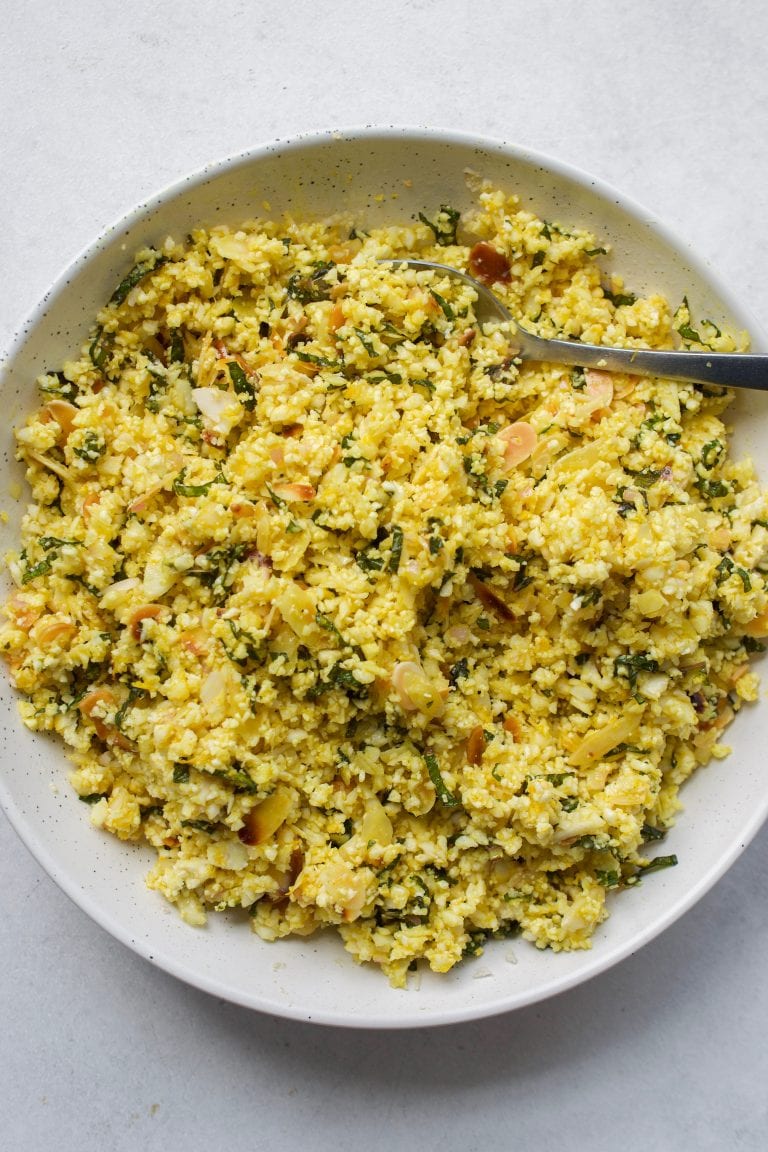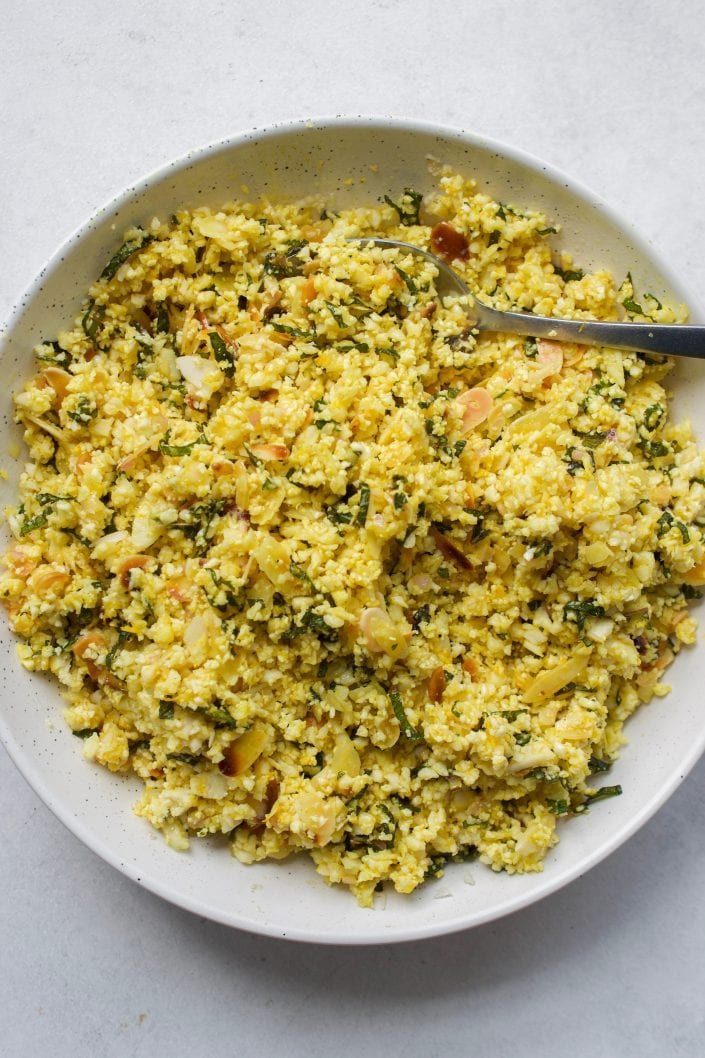 Why you are going to love these Moroccan Chicken Skewers:
The rich spices: although the list of spices required for the marinade is quite long, don't skimp on adding them all! The combination creates a slightly spicy rich in flavour marinade that makes this recipe so delicious! 
They take just 30 minutes to make: I can't deny that letting the chicken marinate in the sauce for 30+ minutes will enhance the flavour, but if you don't have the time, don't stress! Leaving the chicken to marinate for just 10 minutes while you prepare the couscous will still result in flavourful chicken while also ensuring the entire meal is prepared in less than 30 minutes! 
A great way to spice up your summer barbecue: Whether it's Canada Day, 4th of July or a weekend backyard barbecue, these Moroccan skewers are a great alternative to the usual BBQ chicken. 
Leftovers leftovers leftovers: You won't regret making extra! I love tossing leftover chicken into salads the next day, it remains moist and doesn't dry out.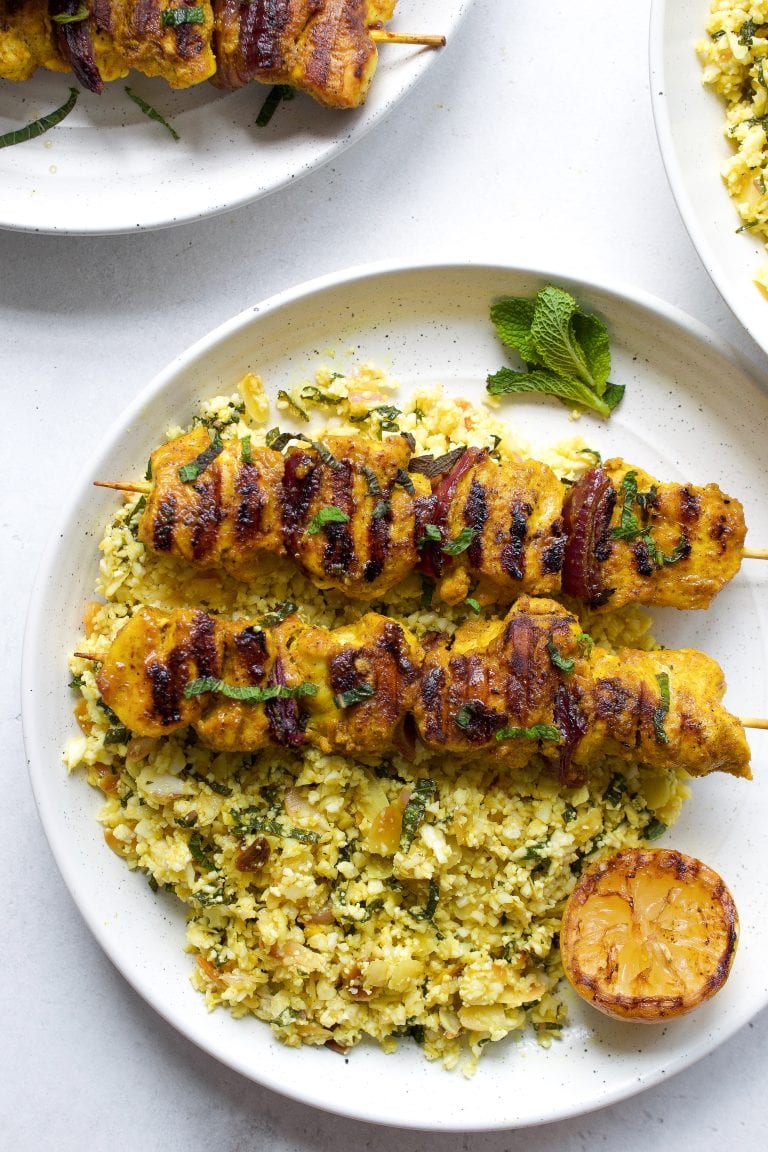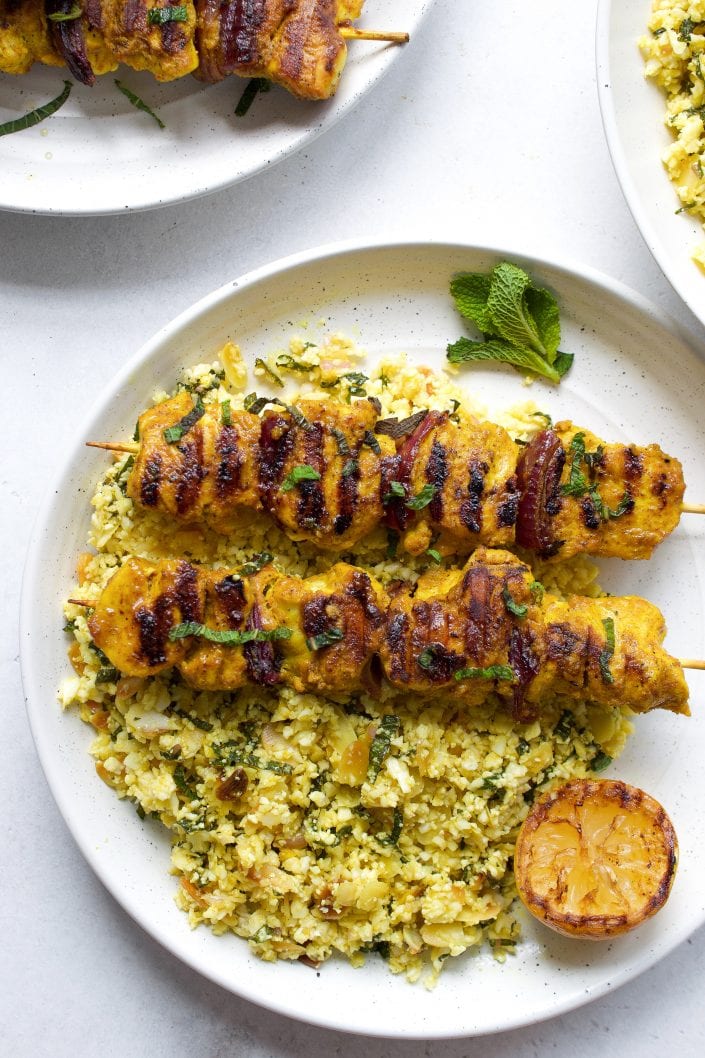 Here are a few other chicken skewer recipes that you will enjoy…
---
If you make this recipe let me know in the comment section below, I would love to hear what you think or take a photo and tag me (@everylastbite_) on Instagram, I love seeing your photos!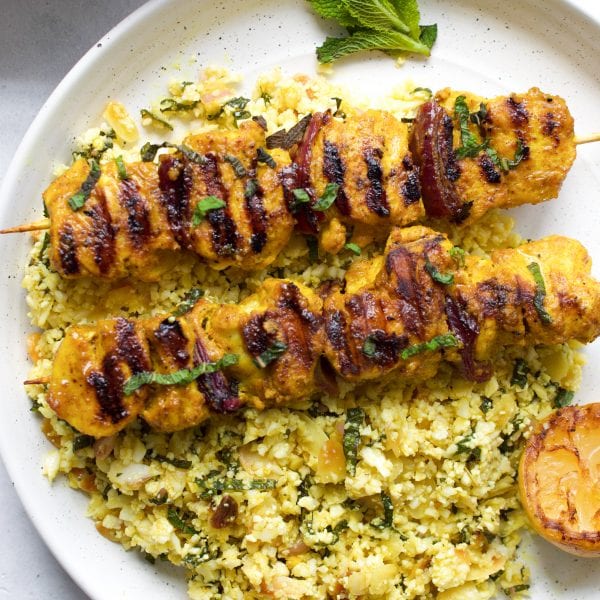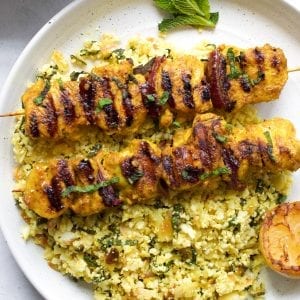 Moroccan Chicken Skewers with Cauliflower Couscous
Ingredients
Moroccan Chicken Skewers
6 boneless skineless chicken thighs (approx 1.2 pounds)
2 tbsp lemon juice
1 tbsp red wine vinegar
1/4 cup olive oil
4 cloves garlic minced
1 1/2 tsp turmeric
1/2 tsp cinnamon
1 tsp coriander
1/2 tsp cumin
1/2 tsp black pepper
1/2 tsp chili flakes
1 large red onion cut into 1 1/2 inch sized wedges
2 tbsp chopped mint for garnish
Couscous
1 small head cauliflower
1/4 cup olive oil
1 1/2 tbsp red wine vinegar
1/2 cup roughly chopped mint
2 tbsp finely diced shallots (approx 1 small shallot)
1/4 tsp salt
1/2 tsp pepper
1/2 tsp turmeric
1/3 cup toasted flaked almonds
Instructions
Start by cutting the chicken thighs into small 1 1/4 inch sized cubes.

In a bowl whisk together the olive oil, garlic and spices and pour it overtop of the chicken. Give the chicken a stir to ensure that it is all coated in the marinade. Place in the fridge to marinate for anywhere from 10 minutes to overnight.

Cut the cauliflower into small pieces. Place them in a food processor and blend for approximately 10 seconds until the cauliflower has broken down into a fine couscous consistency. The pieces should be very fine and approximately 1/3 the size of a piece of cauliflower rice. Measure out 4 cups of cauliflower couscous and transfer it to a bowl.

To the bowl with the cauliflower couscous add in the chopped mint, shallots, olive oil, vinegar, salt, pepper and turmeric and stir it all together. If eating right away then add in the flaked almonds, otherwise I recommend waiting until right before serving to add them to the salad so that they maintain their crunchiness.

Heat a grill or grill pan to medium high heat. Thread to pieces of chicken onto a skewer, followed by a piece of red onion, 2 more cubes of chicken etc until the skewers are filled. Repeat until all of the chicken has been threaded onto the skewers.

Place the skewers on the grill and cook for 10 minutes, turning occasionally to ensure that they are evenly cooked on all sides. Once the chicken is cooked through, transfer to a platter and garnish with chopped mint. Serve the skewers on a bed of the couscous with lemon wedges on the side.