Weekly Meal Plan: February 22nd-28th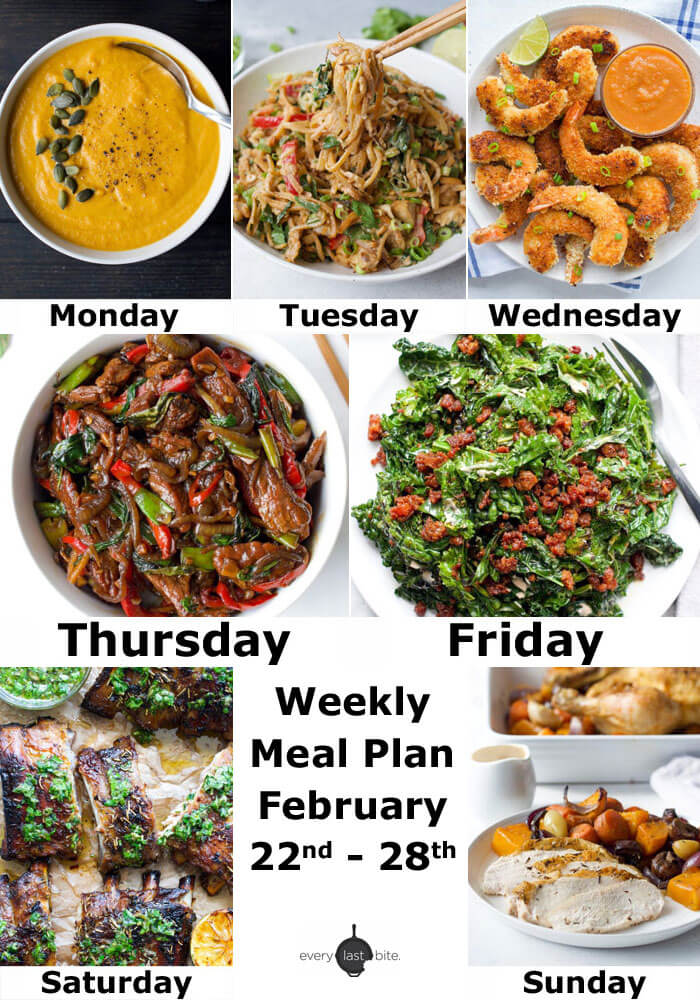 Click here to download the shopping list for the week. 
---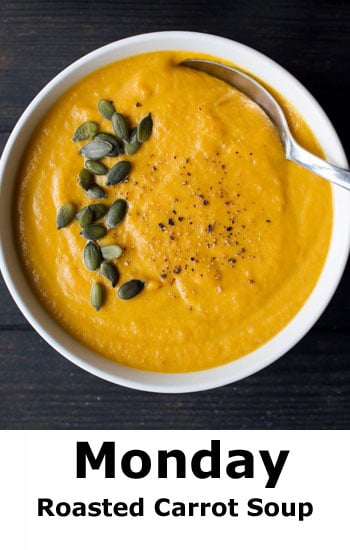 This Roasted Carrot Soup is deliciously thick and creamy and has a wonderful richness of flavour that develops when roasting the carrots. It's an easy to make soup that requires less than 10 ingredients you likely already have in your kitchen! This soup is Paleo, Whole30, Grain Free, Gluten Free, Dairy Free, Specific Carbohydrate Diet Legal and can easily be made Vegan and Vegetarian too!  
Peanut Chicken Noodle Bowls from my cookbook (page 182) are a healthy spin on one of my favorite Thai-style noodle dishes. With a start- to-finish cook time of less than 30 minutes, it's an easy weeknight dinner to make with ingredients that you likely already have in your kitchen. This is a recipe you will definitely want to double because the leftovers are delicious eaten warm or cold.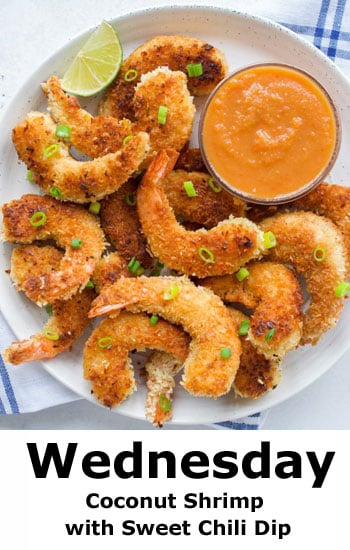 These Whole30 and Paleo Coconut Shrimp are so tasty and take less than 30 minutes to make! The shrimp are coated in shredded coconut and pan fried until crunchy on the outside. They are served with a homemade sweet chili sauce that is perfect for dipping! This recipe is Whole30, Paleo, SCD legal and Grain Free. 
This flavour packed Whole30 Thai Basil Beef is perfect for an easy weeknight dinner you can quickly throw together. The beef is tender and caramelized and tossed in a delicious salty sauce with peppers, onions and fragrant basil. This 30-minute one pan Whole30 will last for up to 3 days in the fridge. It's Paleo, Whole30, Dairy Free, Grain Free, Gluten Free and Specific Carbohydrate Diet Legal.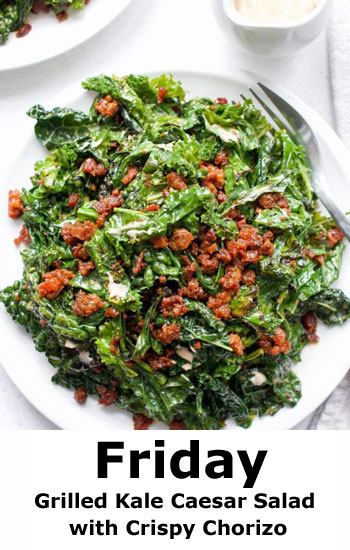 This Grilled Kale Caesar Salad with Crispy Chorizo is a fun spin on a traditional Caesar. The kale is grilled until tender and slightly charred and then topped with crunchy bits of chorizo and a creamy dressing. It's a 30 minute Whole30, Paleo and Keto meal that is perfect for a weeknight.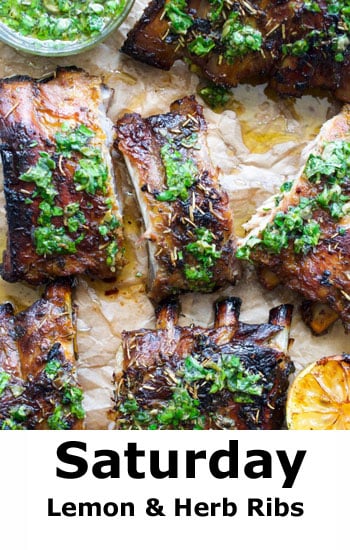 These Lemon & Herb Ribs are fall off the bone tender and coated in a delicious sticky garlic, lemon and herb sauce. They are baked in the oven until tender and then quickly grilled or broiled in the oven until they are charred on the edges. These ribs are Whole30, Paleo, Keto and SCD legal.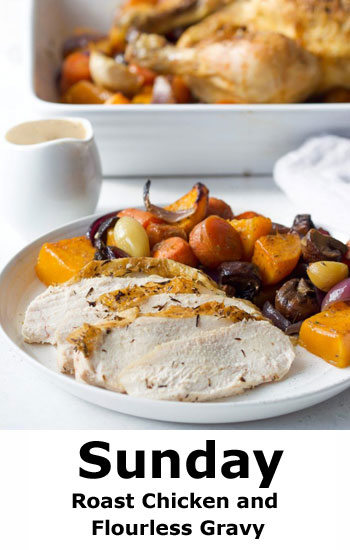 This easy to make Roast Chicken is cooked with a delicious combination of vegetables and topped with a simple 2 ingredient flourless gravy!  The chicken is perfectly golden in colour, with crisp skin and tender meat which is taken to the next level of deliciousness when smothered in Whole30, SCD and Keto gravy! 
Click here to download the shopping list for the week.
Previous Meal Plans:
---
If you follow this week's meal plan let me know in the comment section below, I would love to hear what you think or take a photo and tag me (@everylastbite_) on Instagram, I love seeing your photos!