Hot & Creamy Cauliflower Dip

There are very few crowd pleasing appetizers that are easier to make then a hot and creamy dip. Present a bubbling dish of cheesy dip at any social gathering and you will have guests flocking like the seagulls in Finding Nemo shouting "Mine! Mine! Mine!"
This Creamy Cauliflower Dip is an absolute winner. SA is on a health kick at the moment and immediately declared "there is no way I'm touching that" when he came in the kitchen and saw me whipping the mayonnaise together. Fast forward 20 minutes and he was eating the dip by the spoonful with a sheepish look on his face.
This dip is a great dish to bring to a dinner or party as it can be made a day in advance, transported in a Tupperware container and then quickly heated in the oven before serving. It's great served with crusty bread, crackers or a variety of veggies.
This is my first time ever making mayonnaise and I couldn't believe how fast and easy it was to make. Although this isn't the most flavorful version, it's perfect for this dip. I'm hoping to play around with it in the next few days to create a mayonnaise that will work better as a spread on sandwiches etc. If you are on the Specific Carbohydrate Diet or feel like being adventurous then I highly recommend making the mayonnaise from scratch, but I promise I won't judge if you reach for a trusty old jar of Hellmann's instead. Happy dipping!
If you make this recipe let me know in the comment section below, I would love to hear what you think or take a photo and tag me (@everylastbite_) on Instagram, I love seeing your photos!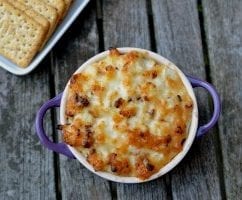 Ingredients
1 cup cauliflower
1 tbsp olive oil
1 cup mayonnaise
1/2 cup parmesan cheese
2 cloves garlic
1 1/2 tsp lemon juice
Instructions
Preheat oven to 175 degrees Celsius (350 degrees Fahrenheit)

Wash and cut the cauliflower into small pieces. Place the cauliflower on a baking sheet and lightly drizzle with olive oil. Bake in the oven for 20-25 minutes until it is well cooked and begins to brown

Once the cauliflower is cooked, remove from the oven and chop into small pieces (approx 1/2 cm in size)

In an oven proof bowl combine the lemon juice, mayonnaise, parmesan cheese garlic and cauliflower

Cook in the oven for 15 minutes until the dip begins to bubble and brown on top. Remove from the oven and serve with bread, crackers or veggies. Enjoy!