Honey Garlic Chicken Thighs
This dish is all about the sauce! Chicken thighs are seared in a pan until crisp and then tossed in the most delicious sticky, sweet and garlicky sauce. This takes just 30 minutes to make and is Paleo but no one would ever know!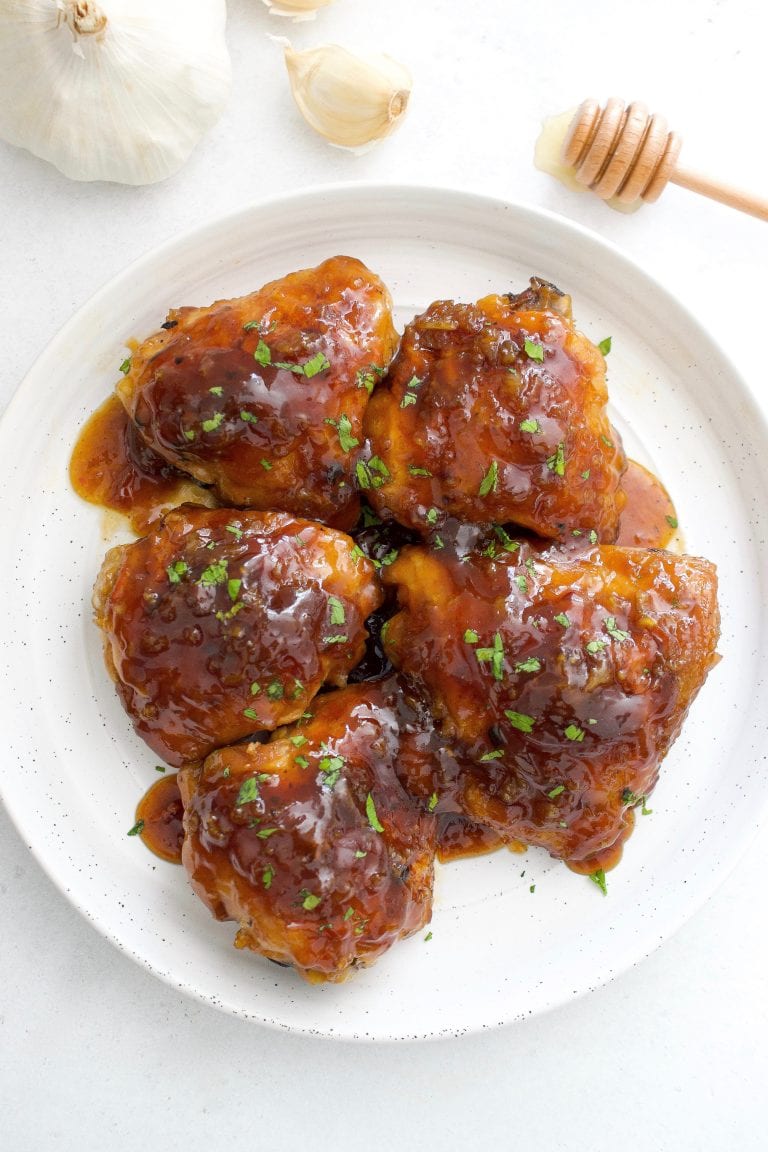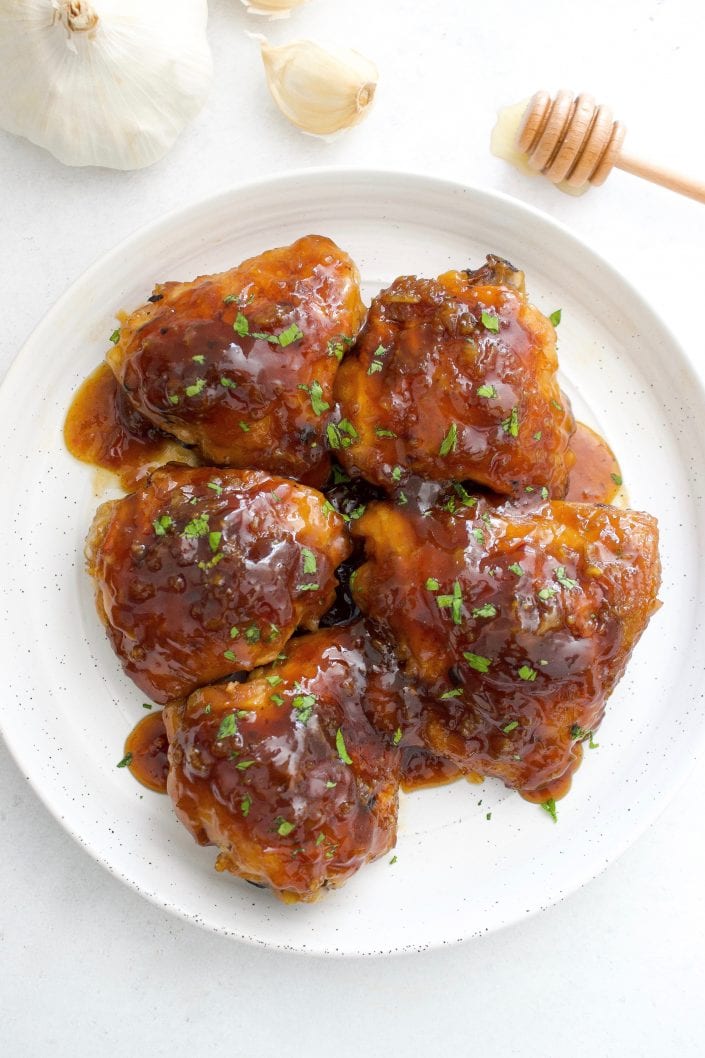 During quarantine I have come to really appreciate simple recipes that only require pantry staple ingredients. For this recipe all you need is honey, garlic, vinegar and coconut aminos to make the sauce. I prefer using bone in skin on chicken thighs but I have included instructions below for other substitutions that you can use depending on what you have. Truthfully the chicken is an afterthought because the sauce is the real star of the show.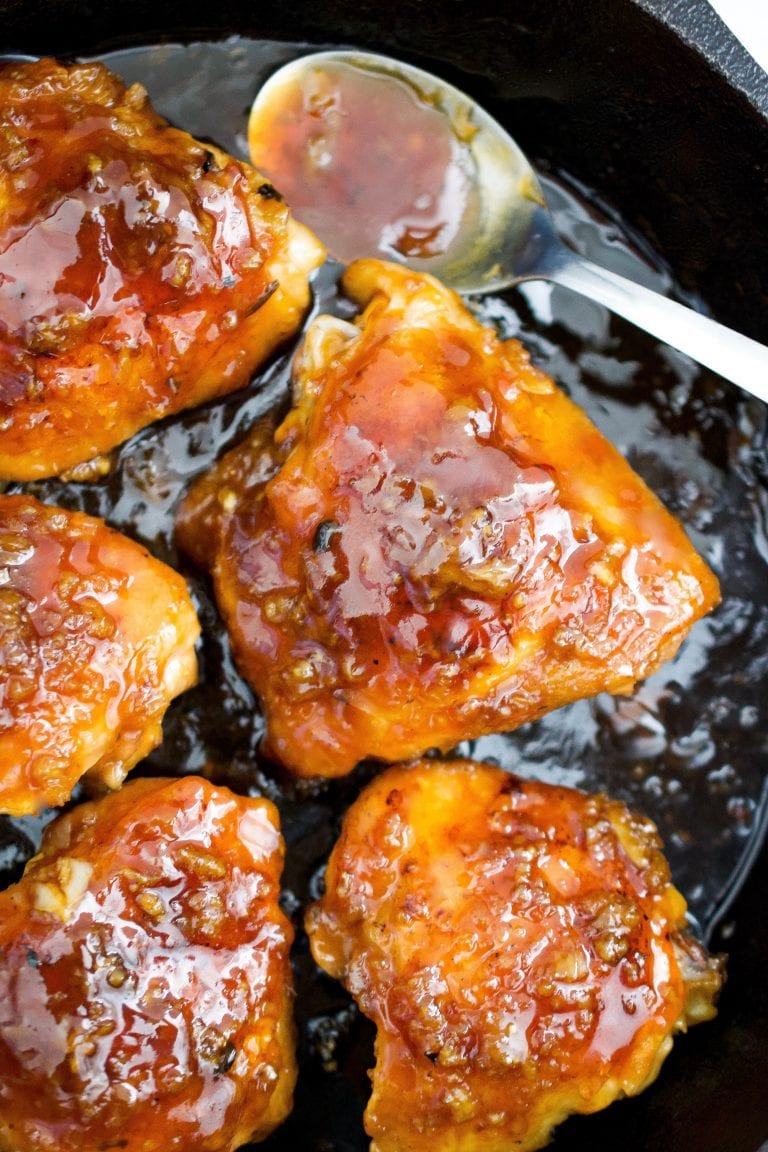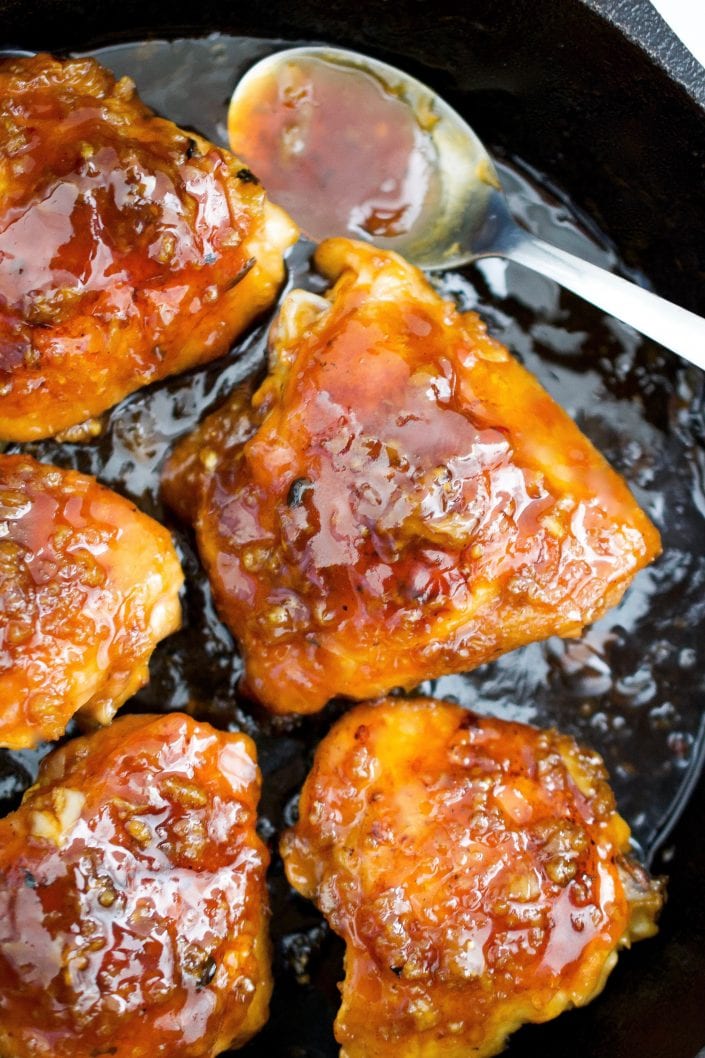 Why you are going to love this Honey Garlic Chicken:
The sauce!! It's sticky, sweet and garlicky, need I say more?? The chicken thighs are smothered in this highly addictive sauce that will make you lick your plate clean!
Crispy Chicken Thighs: Skin on chicken thighs are one of my favourite ways to eat chicken because the meat is so flavourful and the skin becomes so nice and crispy!  
Perfect for weeknight dinner: With a start to finish time of just 30 minutes this is perfect for an easy weeknight dinner
It's Paleo: But no one would ever know!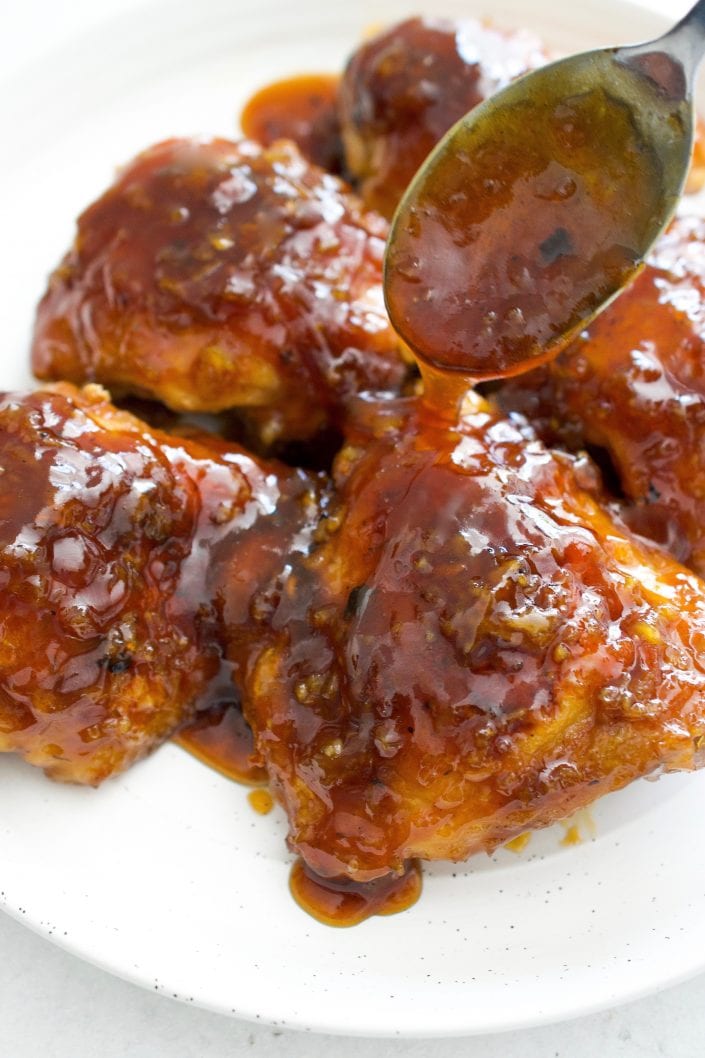 Alternatives to using bone in skin on chicken thighs:
Boneless skin on chicken thighs: You will still get the crispy skin and flavourful meat, but with a shorter cooking time. In step one sear the chicken for 4 minutes per side until it's cooked through. Add bonus, without the bone the chicken is much easier to eat. 
Boneless skinless Chicken Breasts: this is a lower calorie alternative to chicken thighs. Unfortunately you won't get that nice crispiness without the skin, but you should still be able to develop a crust on the breast when searing. 
Shrimp: Sear 12-15 shrimp in the pan and then toss them in the sauce
Pork Chops: Sear the pork chops for 5 minutes per side in step 1. 
What to serve with this Honey Garlic Chicken: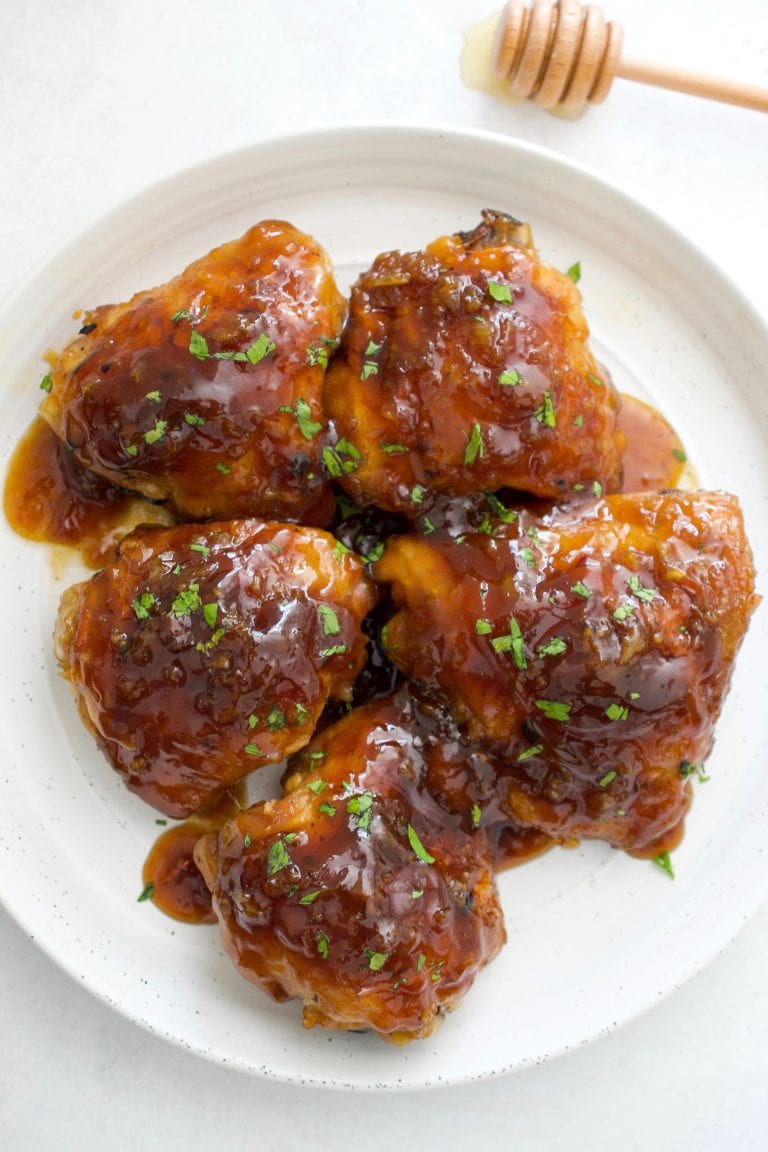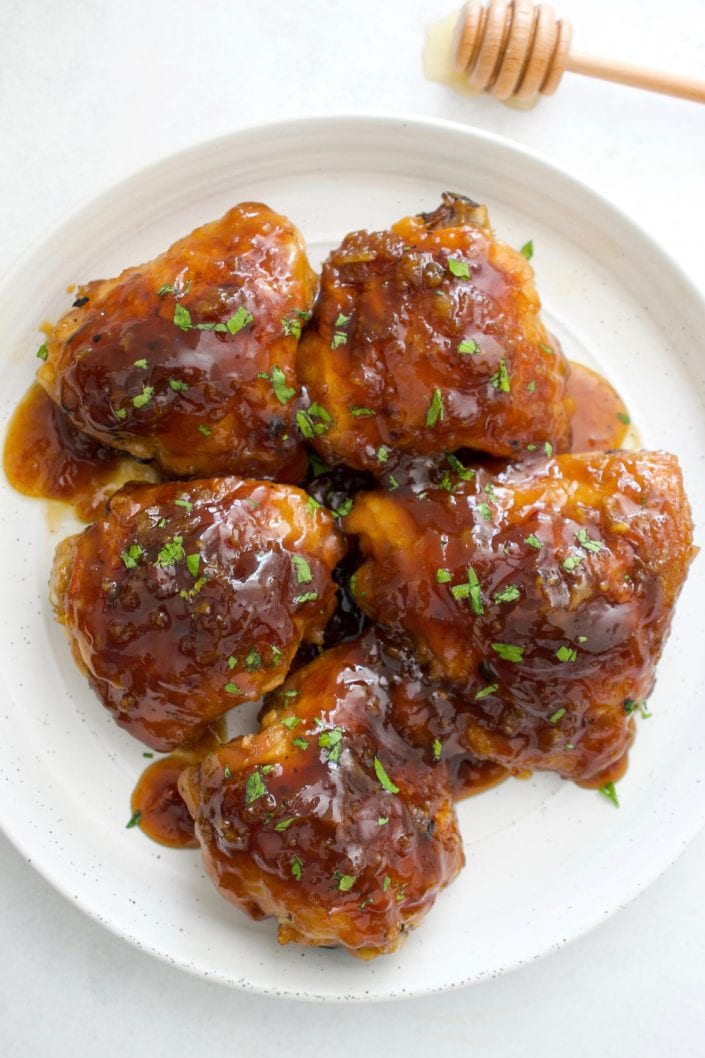 Here are a few other ways you can use bone in skin on chicken thighs:
---
If you make this recipe let me know in the comment section below, I would love to hear what you think or take a photo and tag me (@everylastbite_) on Instagram, I love seeing your photos!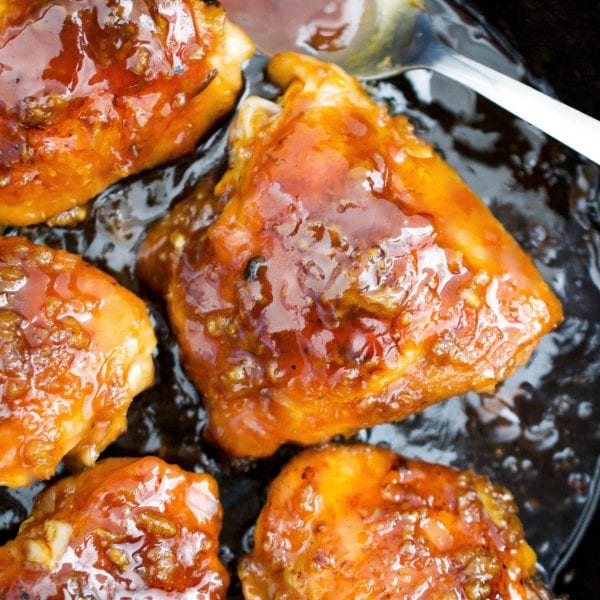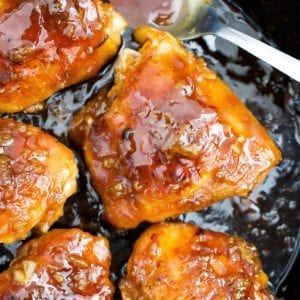 Ingredients
6 bone in skin on chicken thighs
1/2 tsp salt
1/2 tsp pepper
1 tbsp olive oil
5 cloves garlic minced
1/3 cup honey
1/3 cup chicken stock
2 tbsp apple cider vinegar
1 tbsp coconut aminos
1/2 tbsp chopped parsley
Instructions
Heat the oil in a skillet on medium high heat. Pat the skin of the chicken thighs dry with a paper towel and season with salt and pepper. Place the chicken skin side down in the skillet and leave to cook for approximately 7-8 minutes until the skin is golden and crisp and then flip them over and cook for another 8 minutes on the other side. Remove the chicken from the pan and set it aside on a plate.

Add the minced garlic to the pan and let cook for approximately 30 seconds until its fragrant and then add in the honey, chicken stock, apple cider vinegar and coconut aminos. Reduce the heat to medium and bring the sauce to a gentle simmer.

Once the sauce is simmering, return the chicken thighs to the pan, spoon the sauce overtop of each piece and then leave to cook for 5 minutes. Keep an eye on the sauce to ensure that it doesn't thicken too much. After 5 minutes the sauce will have slightly thickened and the chicken should be completely cooked through. Use a meat thermometer to check the internal temperature of the chicken, when it reaches 160 degrees Fahrenheit it is done. Garnish with chopped parsley before serving.