Whole30 Wedge Salad
This Whole30 Wedge Salad is a healthy spin on the classic salad. It's a great refreshing salad that is easy to prepare and can be served for lunch, as an appetizer or light dinner. The wedges of iceberg lettuce are topped with bacon, tomatoes, chives and red onion and then drizzled with a dairy free ranch.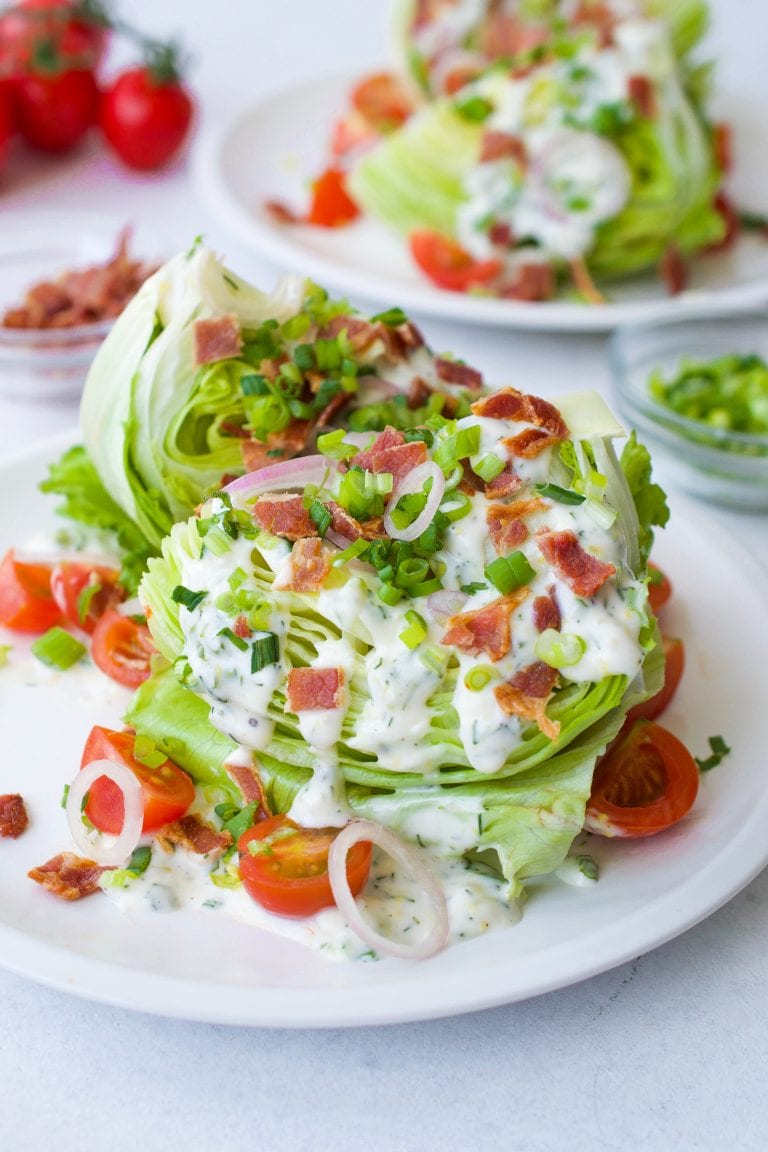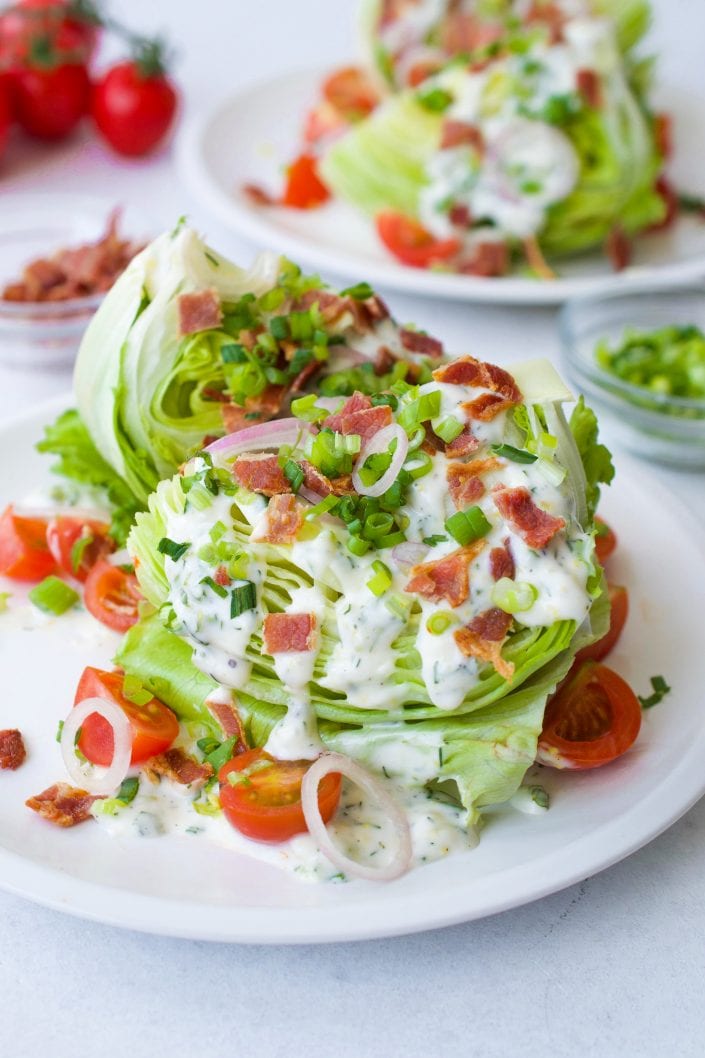 Wedge salad is a great option when you are in the mood for something light and fresh, but want more than just a basic salad. It used to be one of my favourite salads to order as a healthy option at a steak restaurant, until I realized that restaurant wedge salads are in no way healthy, holy 1200 calories! This homemade wedge salad has all of the delicious flavour as the classic version, but it's Keto, Whole30 and a whole lot healthier.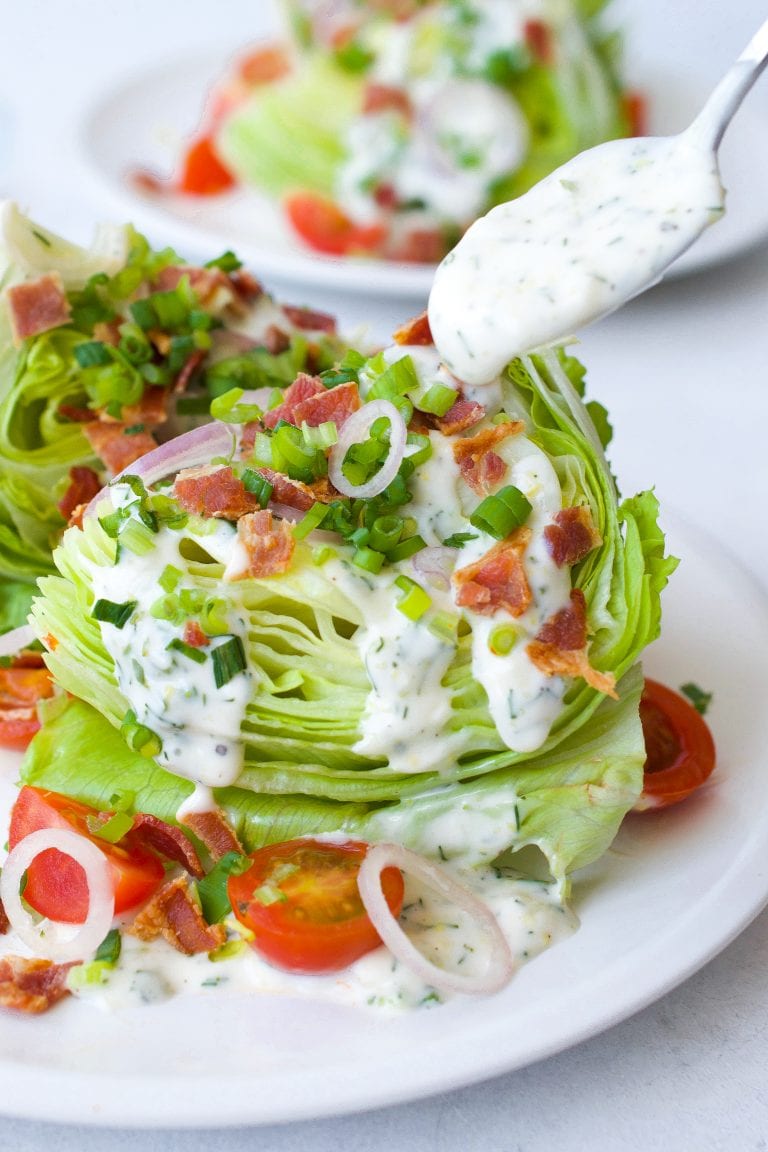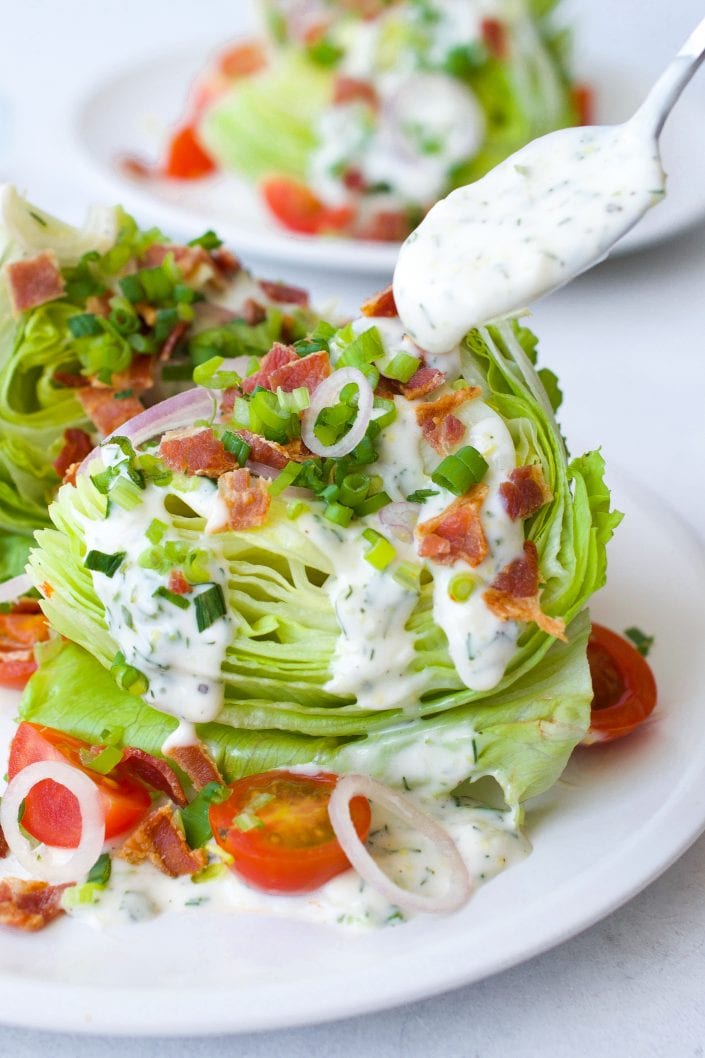 Reasons to love this Whole30 Wedge Salad:
This isn't your average salad: This isn't your typical bowl of lettuce, using wedges of iceberg lettuce as a base makes this salad very crispy, light and fresh! There is just something so satisfying about cutting into a big lettuce wedge. 
The dressing! While traditional wedge salad is usually served with blue cheese dressing, to keep things dairy free for this recipe the salad is topped with a herby ranch dressing. 
It's a great salad to prep in advance: All of the components for this salad (dressing + toppings) can be prepared up to a few days in advance and the salad can be quickly assembled before serving. 
It's healthy: This salad is Whole30, Keto and Paleo and can easily be made vegetarian by skipping the bacon!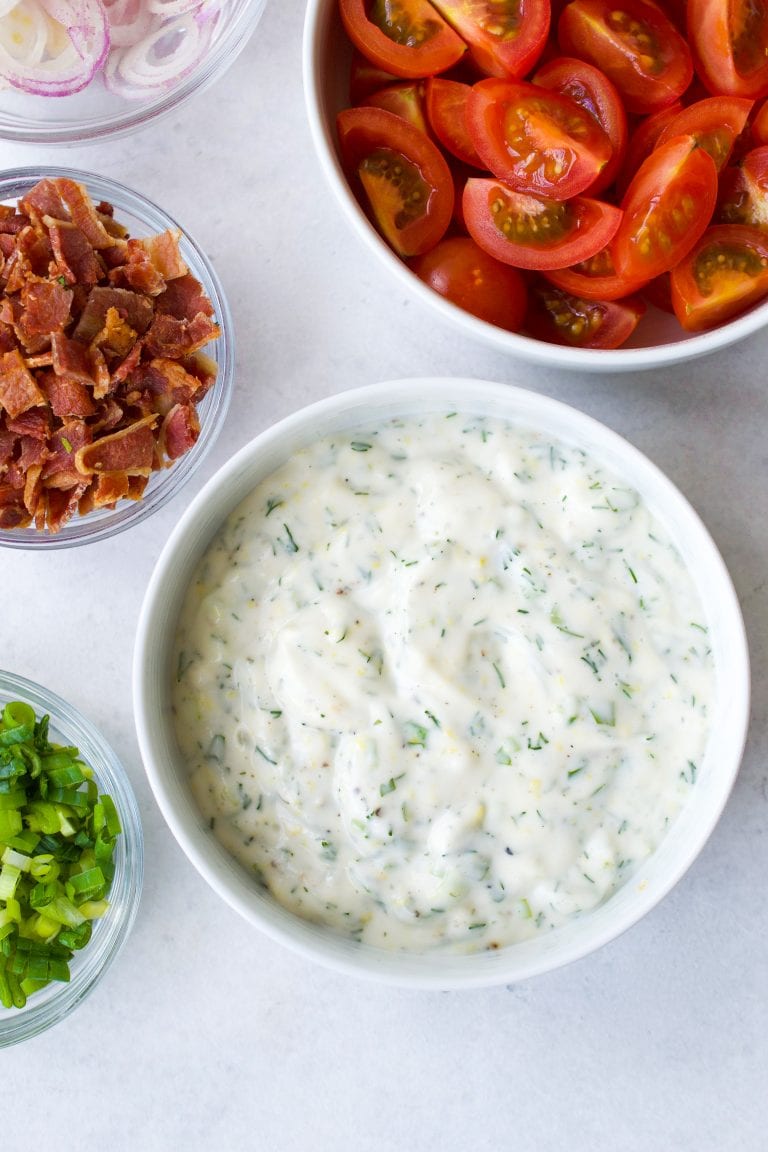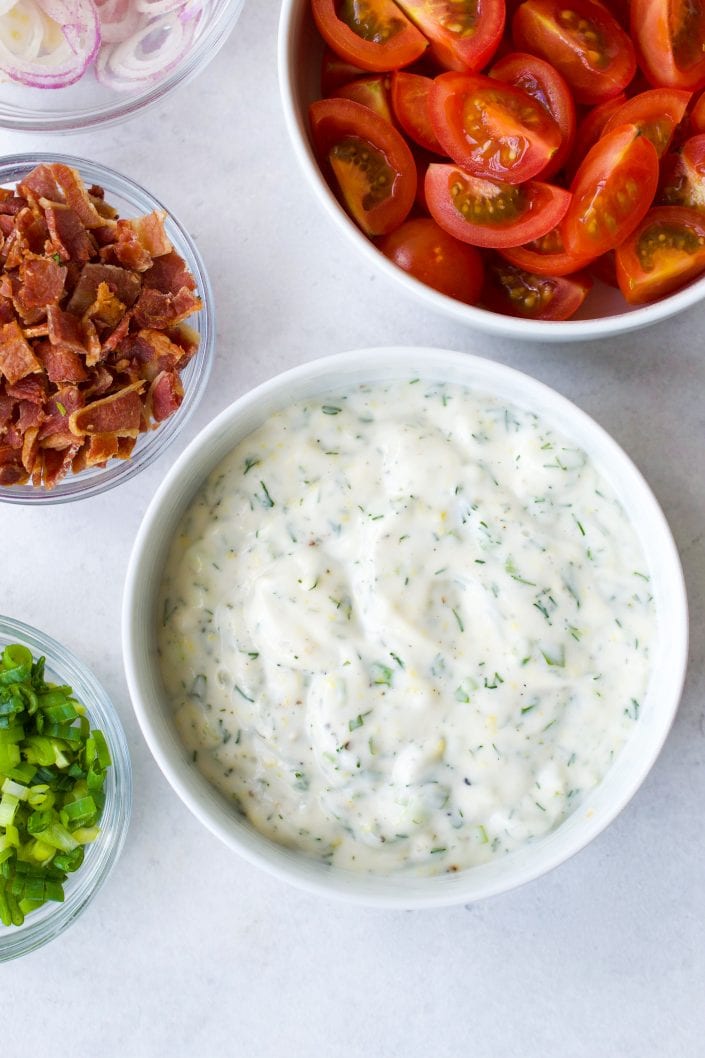 Let's talk toppings:
Crispy Bacon: chopped crispy bacon makes everything better in my opinion, and this wedge salad is no exception. The chopped bacon adds a nice saltiness and crispy texture to each bite. 
Red onion or Shallots: I love the sharp onion flavour that the thinly sliced red onion or shallots add when sprinkled overtopped. I find that when eaten raw, shallots have a slightly more mild and sweet flavour vs red onion. 
Tomatoes: either large hot house or cherry tomatoes work well for this. Use whatever ripe tomatoes you can find. 
Scallions or Chives: don't skimp out on adding chopped scallions or chives to the salad, they are more than just a garnish. Chives have a milder flavour compared with scallions which have a stronger onion taste.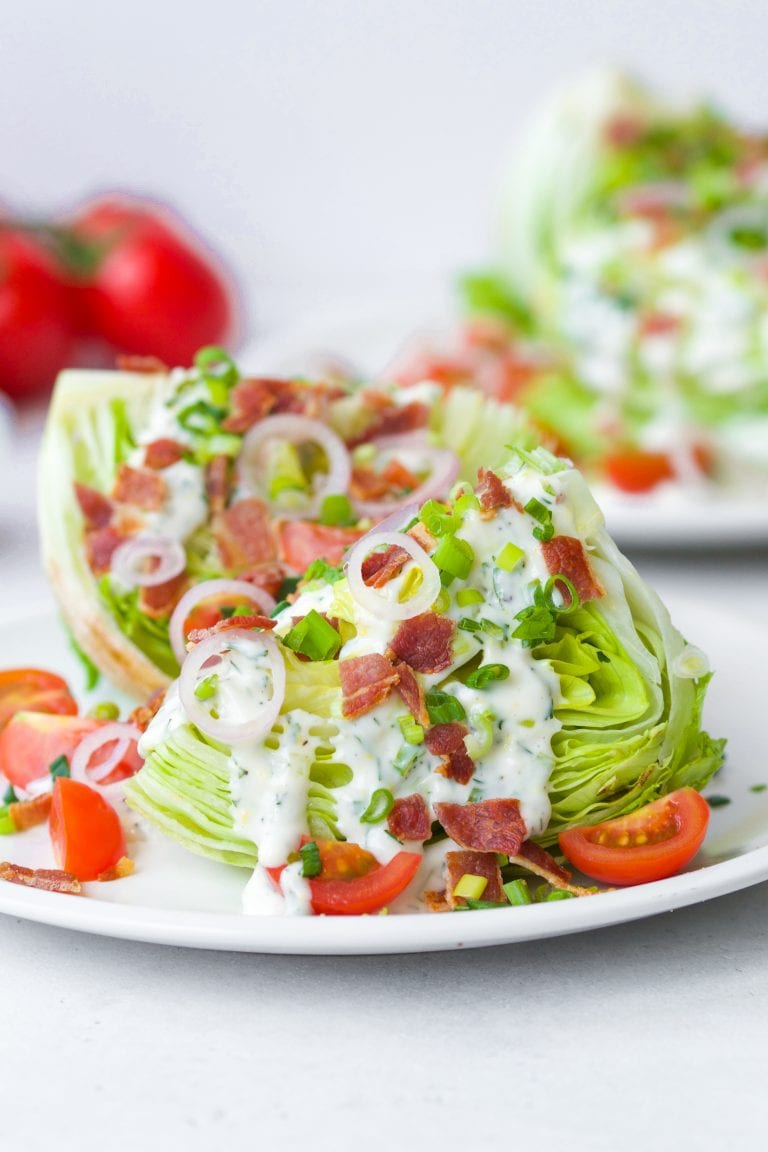 Other toppings you could add:
I personally am not a big fan of hard boiled eggs, but for anyone who is, roughly chop 2 hard boiled eggs and sprinkle them over the salad. 
To reduce calories you could use turkey bacon in place of regular bacon.
Not on a dairy free diet? Add crumbled blue cheese! 
Want to make it more filling? Add poached shrimp, slices of steak or grilled chicken
Add flaked almonds or pine nuts for a crunchy texture.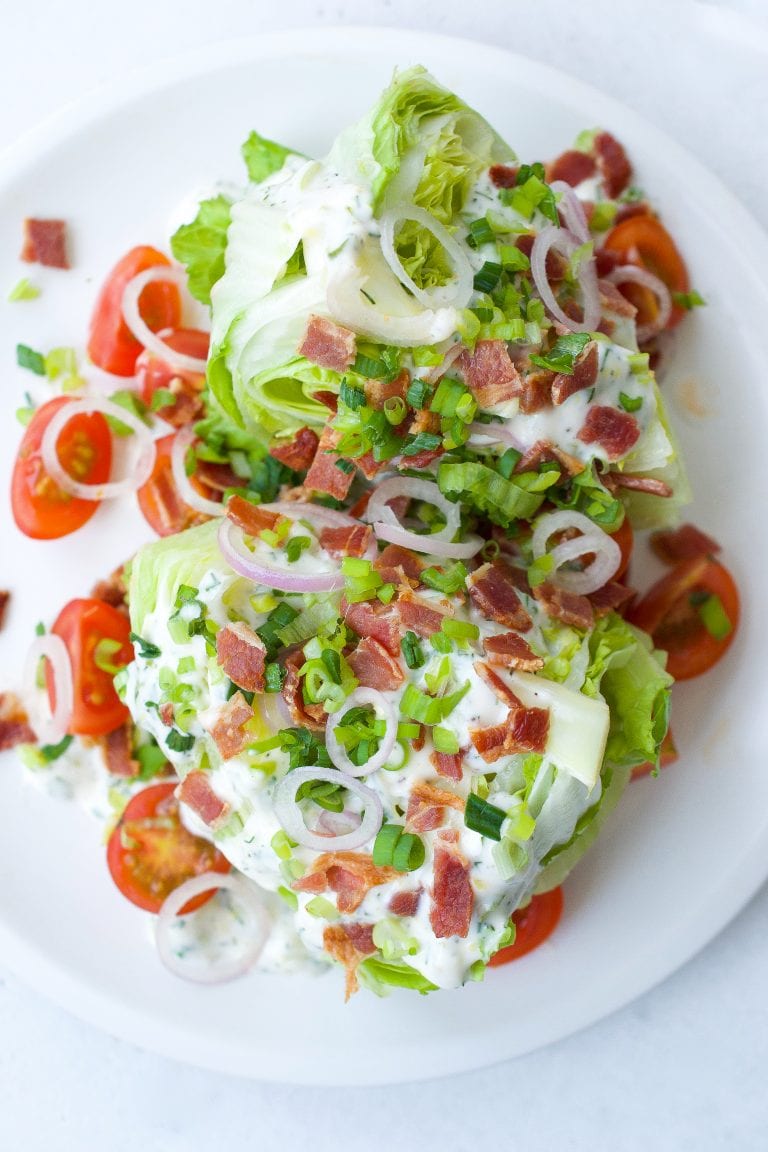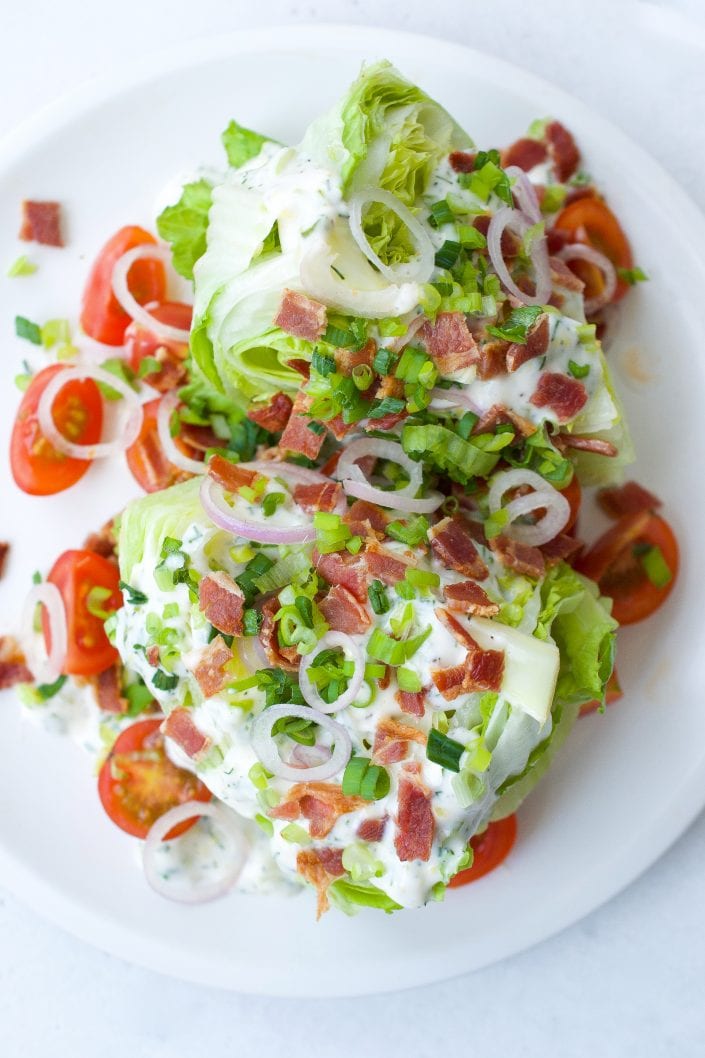 Here are a few other great salad recipes…
---
If you make this recipe let me know in the comment section below, I would love to hear what you think or take a photo and tag me (@everylastbite_) on Instagram, I love seeing your photos!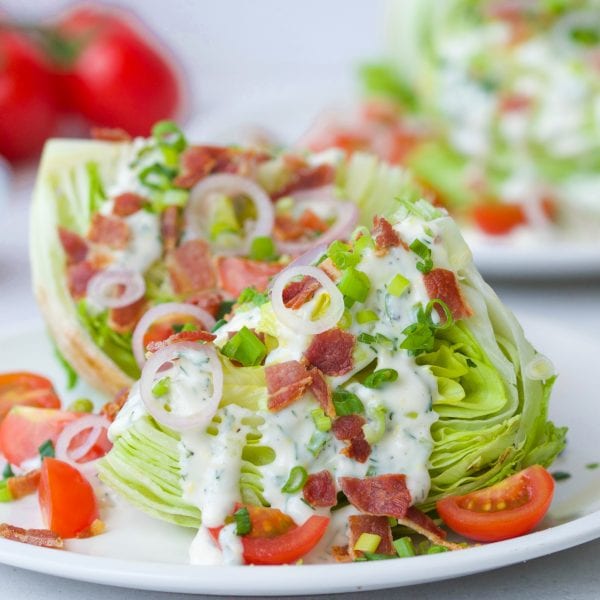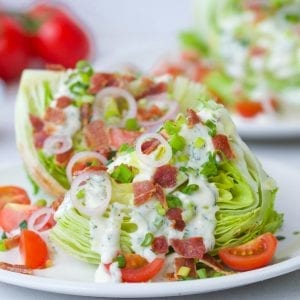 Ingredients
1 head large Iceberg lettuce
6 strips cooked bacon roughly chopped
3/4 cup halved cherry tomatoes
2 small shallots or 1/4 red onion thinly sliced
2 tbsp chopped scallions or chives
Dressing
1/2 cup mayonnaise
1 tbsp lemon juice
1 clove garlic minced
2 tbsp chopped dill
1 tbsp chopped parsley
1/4 tsp salt
1/4 tsp pepper
1 tsp lemon zest
1 tbsp chopped scallions or chives
Instructions
Combine all of the ingredients for the dressing in a bowl and stir until well mixed. Taste and adjust the flavouring as desired and then set aside.

Remove any loose or browned outer leaves from the head of lettuce and then slice the head in half through the core, and then cut in half again to get 4 quarters. Divide the iceberg lettuce wedges between 4 plates.

Drizzle the dressing over each of the lettuce wedges and then top with the sliced shallots, chopped bacon, cherry tomato halves and chopped scallions or chives. Serve immediately with extra dressing on the side.