Sticky Honey & Ginger Chicken Wings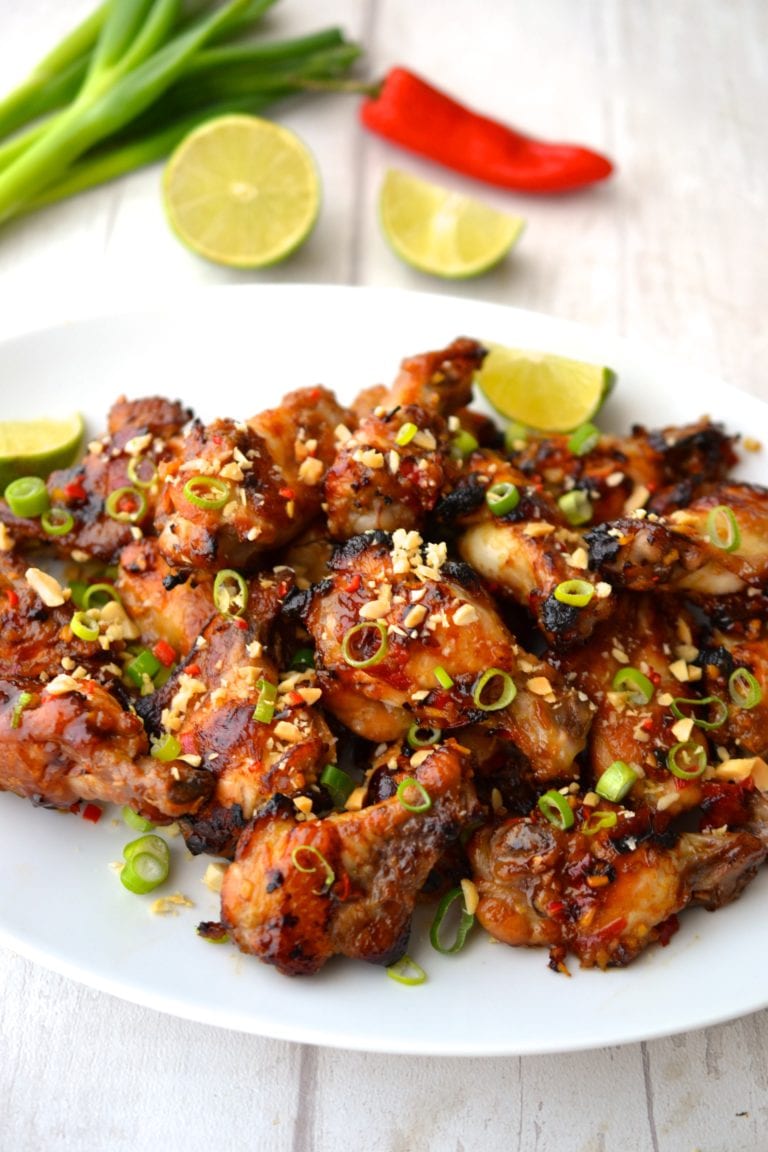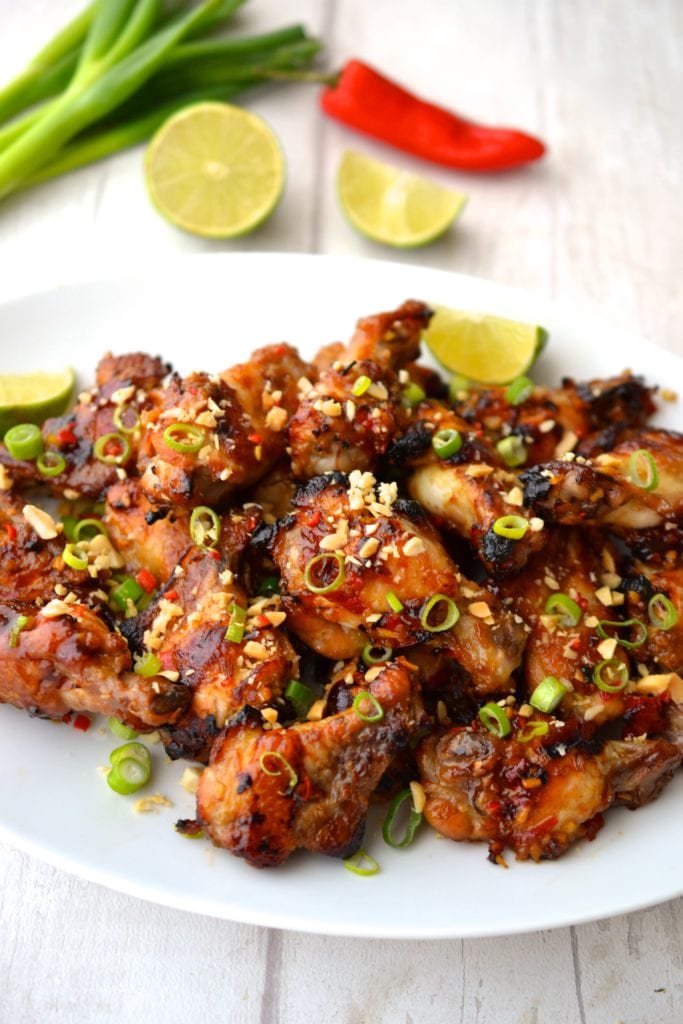 I have always had a weakness for chicken wings. There is something about a big plate piled high with chicken wings, sticky fingers and a face covered in sauce that makes me so happy. Unfortunately most chicken wings served in restaurants are deep fried and then coated in a sugar rich sauce that although delicious, isn't healthy.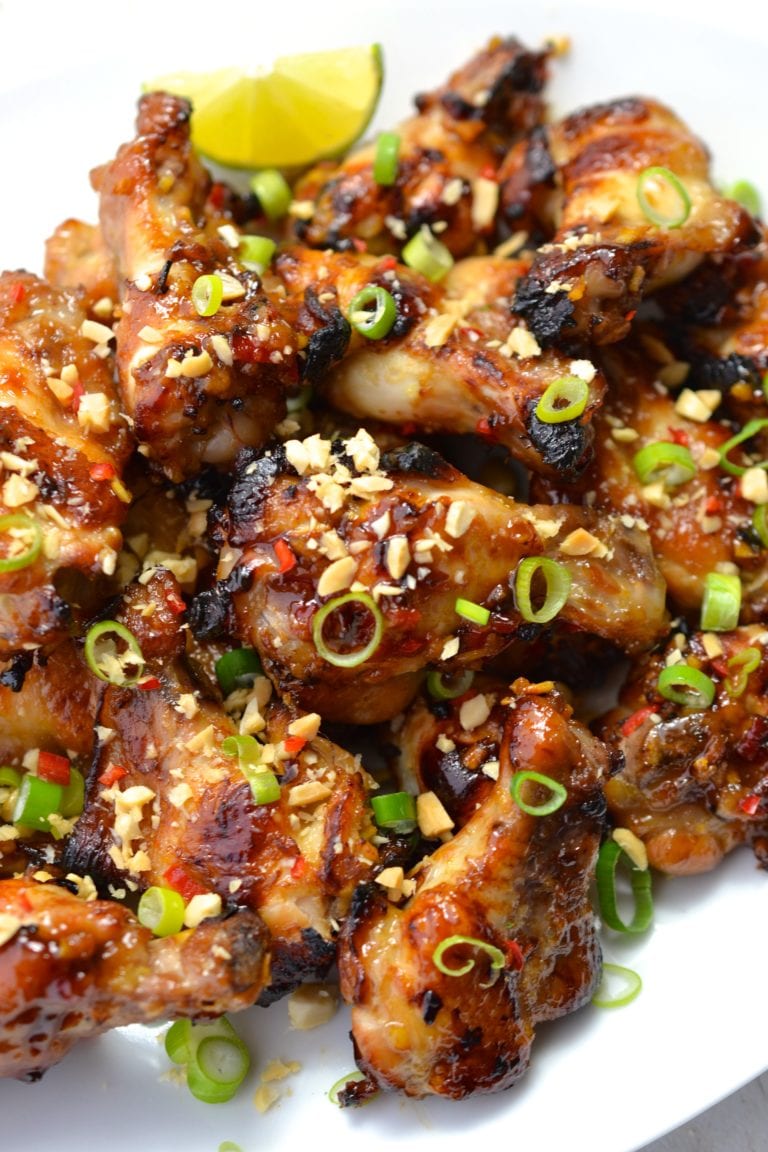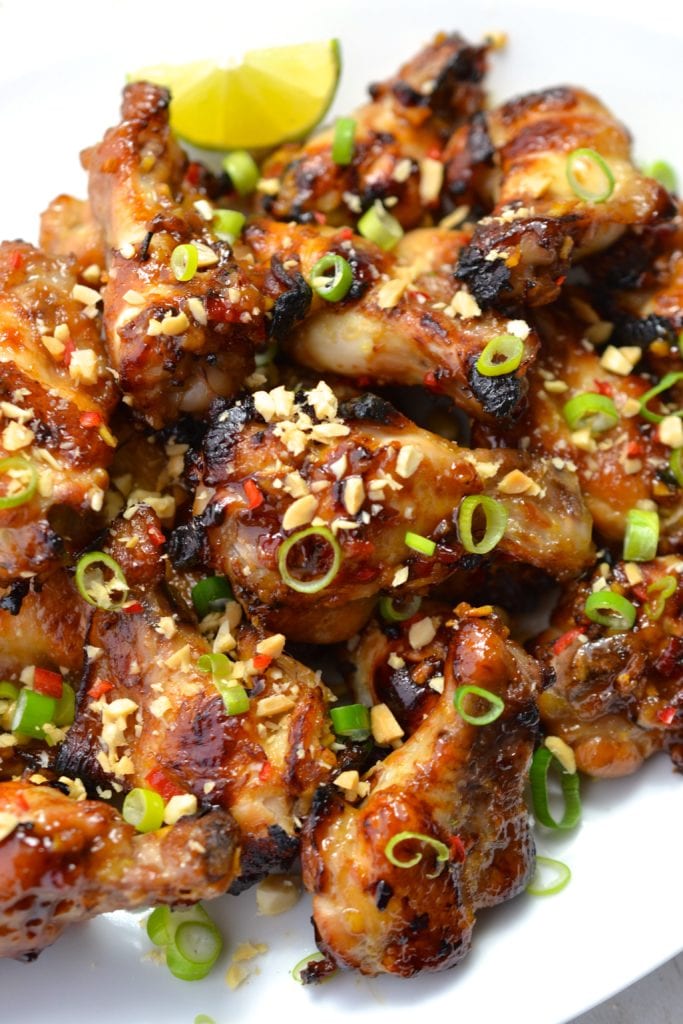 Chicken wings aren't nearly as big a thing here in the UK as they are in North America, so I have been on the hunt for them for quite some time. When I spotted chicken wings for the first time in the grocery store last week, you would have sworn I had won the lottery, the entire meat aisle turned to stare.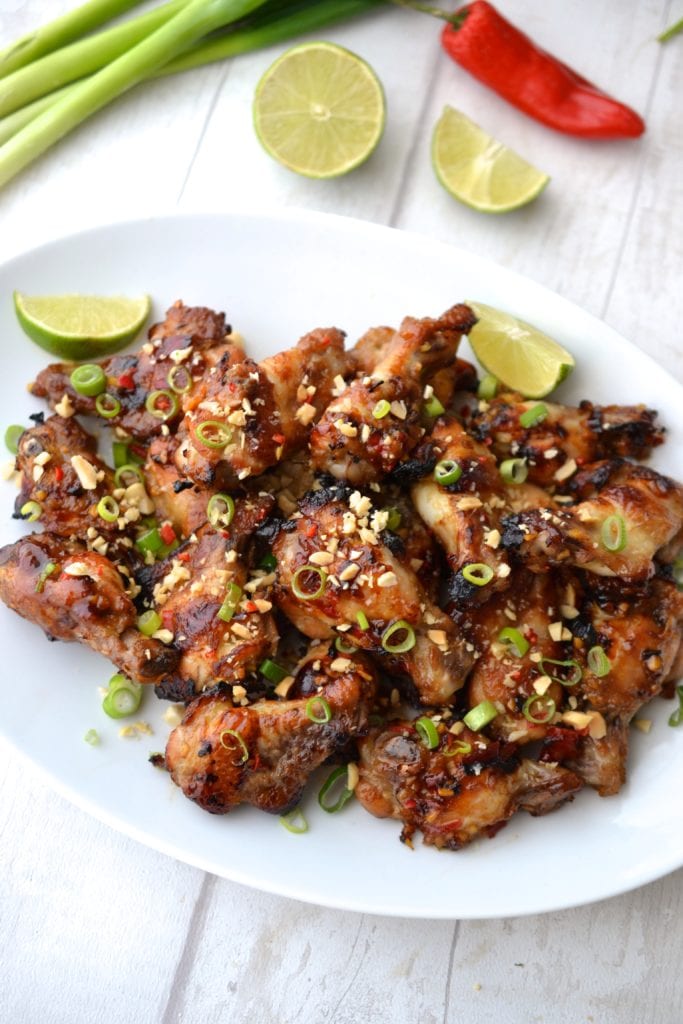 I love the sauce for these wings, its sticky, zesty, spicy and sweet. Be warned that a wet cloth or small bowl of water is definitely required when eating these, I seemed to spend just as much time licking my fingers as I did eating the wings.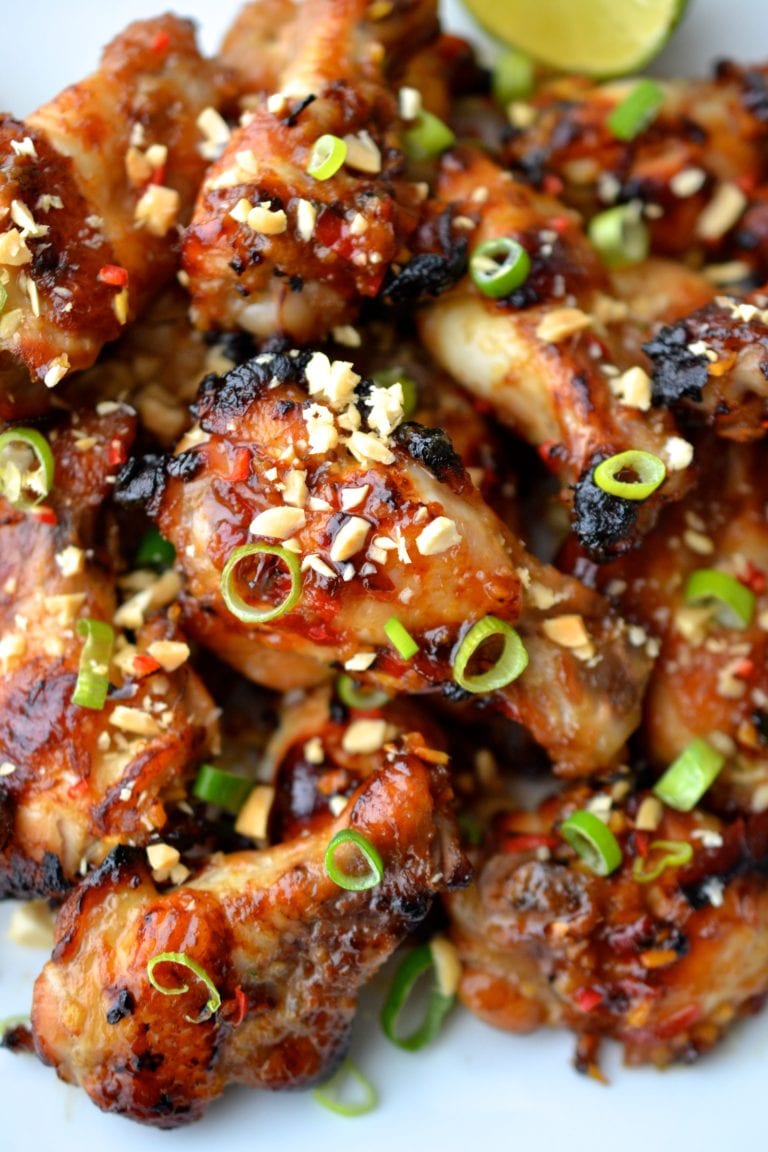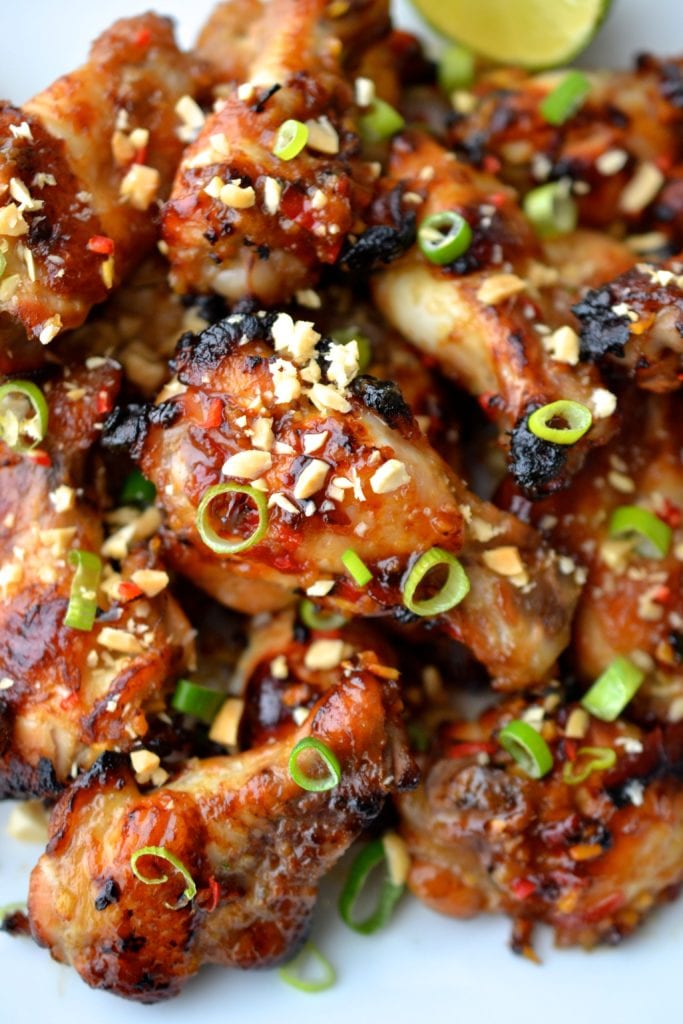 Although the sticky honey and ginger sauce is delicious, the garnishes are also worthy of a mention. I sprinkled the wings with chopped nuts, scallions and red chillies right before serving and loved the texture and fresh flavour they added to each bite, definitely don't skip adding them!
Here are a few other game day appetizers that you might enjoy…
---
If you make this recipe let me know in the comment section below, I would love to hear what you think or take a photo and tag me (@everylastbite_) on Instagram, I love seeing your photos!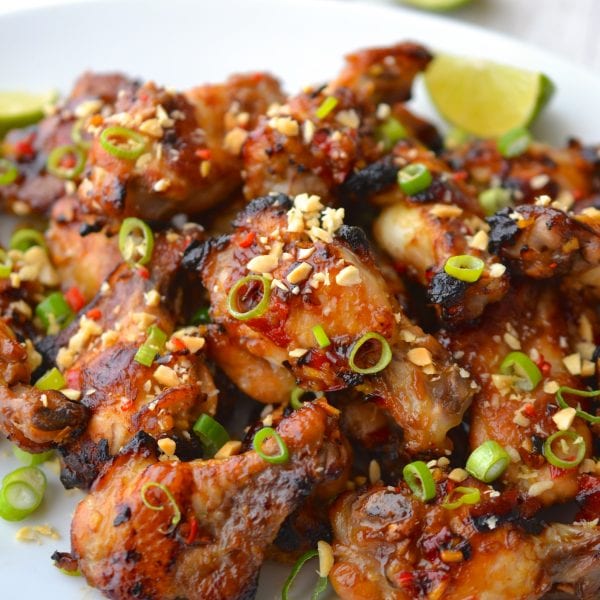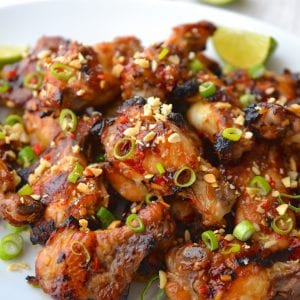 Sticky Honey & Ginger Chicken Wings
Ingredients
1 kg chicken wings
3 cloves garlic crushed
2 tbsp grated fresh ginger
1 tbsp coconut aminos
2 tbsp apple cider vinegar
1/4 cup honey
1 tbsp finely chopped red chillies + more for garnish
1 tbsp chopped peanuts or cashews
2 tbsp chopped scallions
Instructions
In a bowl combine the garlic, grated ginger, coconut aminos, vinegar, honey and chopped red chilies.

Pour 3/4 of the liquid mixture over the wings, reserving the remainder of the sauce for later. Let the wings marinate for a minimum of 1 hour in the fridge.

Preheat the oven to 200 degrees Celsius (400 degrees Fahrenheit) and line a baking sheet with parchment paper

Lay the chicken wings out evenly on the baking sheet and bake in the oven for 35 minutes, flipping them half way through to let them brown evenly.

Remove the wings from the oven and toss them in the reserved sauce. Sprinkle with the chopped chillies, nuts and scallions before serving.