Spiced Lamb & Lentil Stew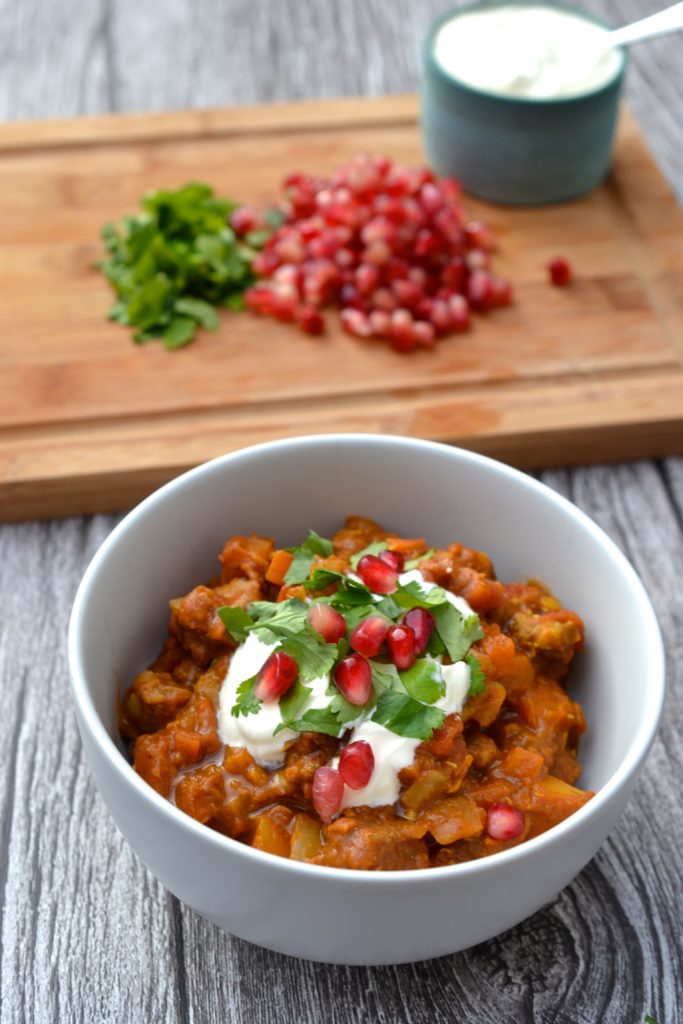 I have been incredibly lazy with weeknight dinners, heavily relying on containers of soups and stews found in the deepest and darkest corners of my freezer. This spicy lamb and lentil stew is one of my favourites, I made a large batch a few weeks ago and have been happily eating it at least twice a week since.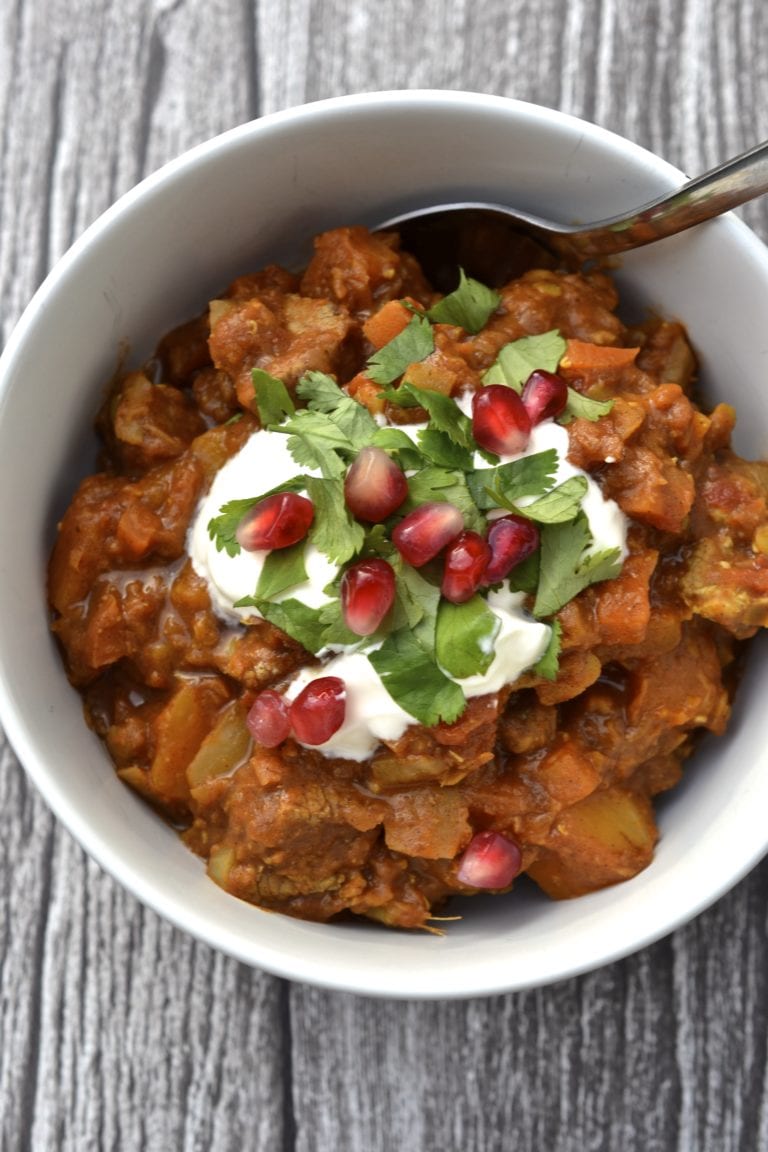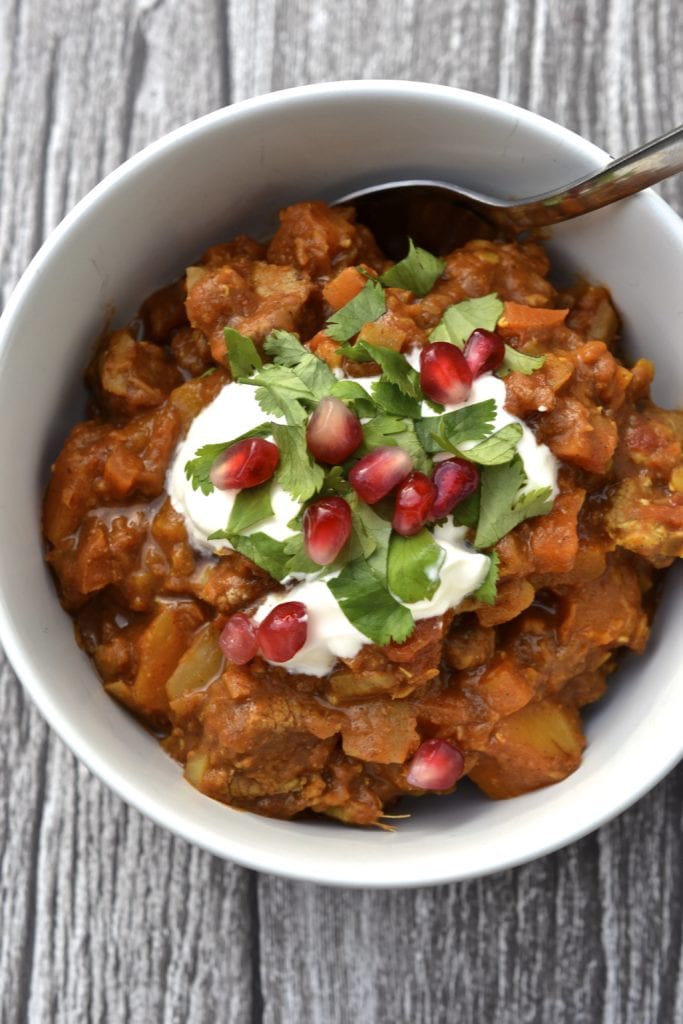 I love the rich flavours of this stew. The combination of cinnamon, cumin, turmeric and ginger gives this dish a delicious earthy Moroccan flavour with hints of sweetness and spice. The meaty chunks of lamb are melt in your mouth tender while the red lentils thicken make the stew nice and thick. In this recipe the red lentils cook for the full 90 minutes so they are very mushy, if you prefer them to hold their shape then wait to add the lentils until the last 30 minutes of cooking.
I love topping the stew with pomegranate seeds and chopped coriander, which adds freshness to this hearty dish. You can also top the stew with sour cream, yogurt (or SCD yogurt) for added creaminess.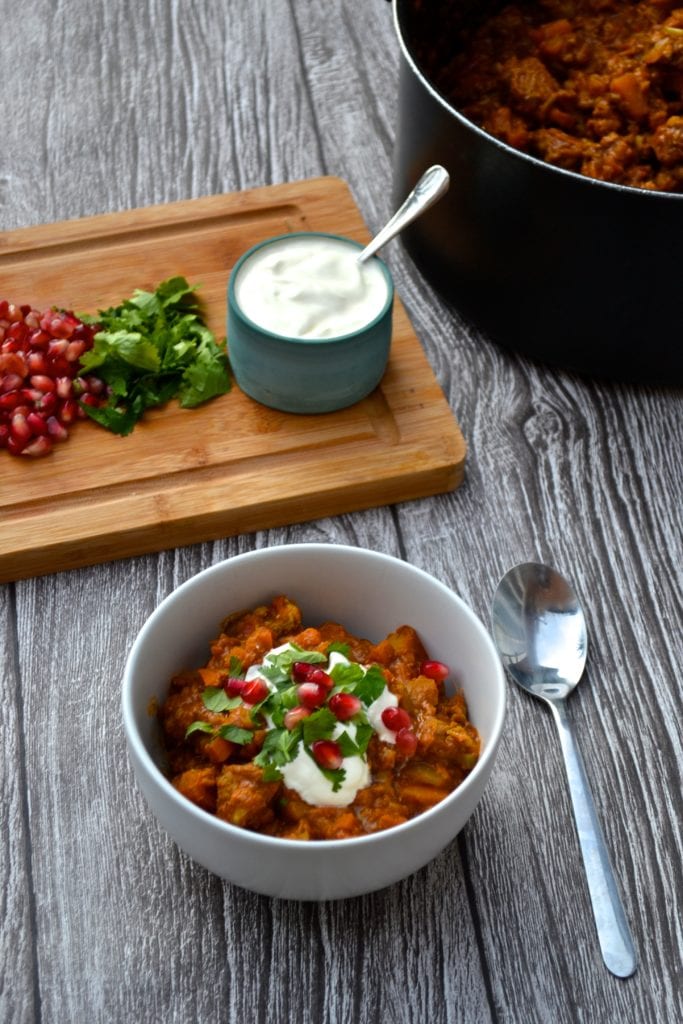 If you make this recipe let me know in the comment section below, I would love to hear what you think or take a photo and tag me (@everylastbite_) on Instagram, I love seeing your photos!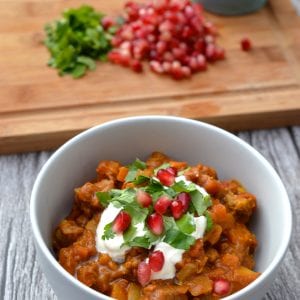 Spiced Lamb & Lentil Stew
Ingredients
1 tsp oil
1 kg boneless leg of lamb cut into small cubes
2 onions
4 cloves garlic
2 cups chopped carrots
1 tsp cinnamon
1 tsp tumeric
1 tbsp cumin
1/4 tsp salt
1/4 tsp pepper
2 tsp grated fresh ginger
1 tbsp ground coriander
1 tsp paprika
4 cups lamb or chicken stock
1 1/3 cup red lentils thoroughly rinsed
Options toppings - pomegranate seeds chopped coriander, yogurt/sour cream
Instructions
Heat oil in large pot over high heat, brown the cubed lamb on all sides. Once browned, add in the onion, garlic and chopped carrots and cook for approximately 5 minutes until the onions become translucent.

Add in the spices and ginger and stir to combine with the mixture. Pour in the stock, diced tomatoes and lentils and simmer covered on low heat for an hour and a half.

After 90 minutes the lamb should be tender. Ladle into bowls and serve topped with fresh coriander, pomegranate seeds and sour cream.