Brisket Chili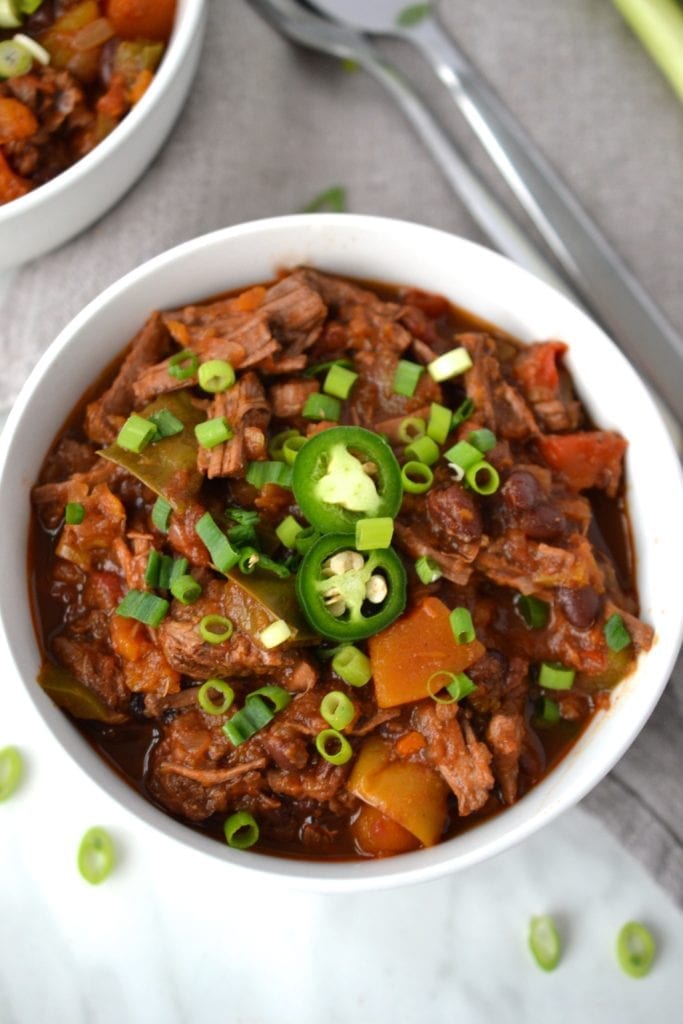 During the winter months, chili was a dish I grew up eating for dinner at least once a week. I've wanted to create a Specific Carbohydrate Diet legal version of the dish for awhile now, but have been struggling with what could replace all of the different varieties of beans traditionally used in the dish.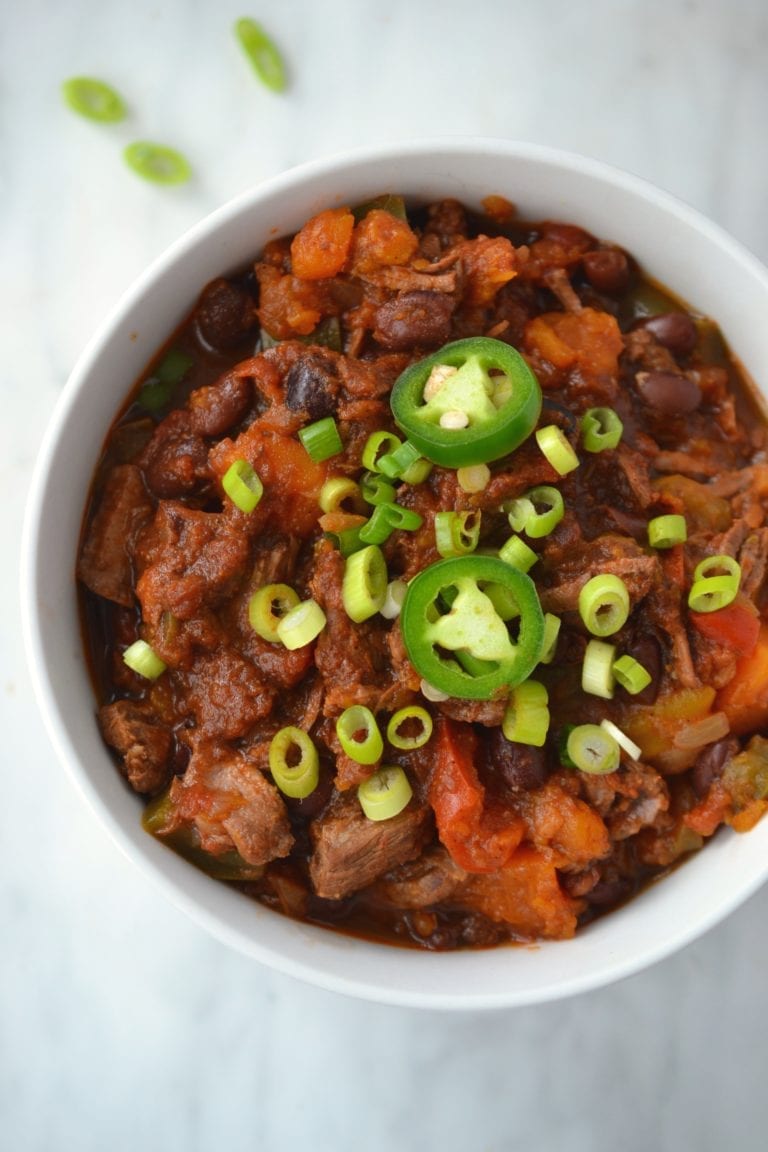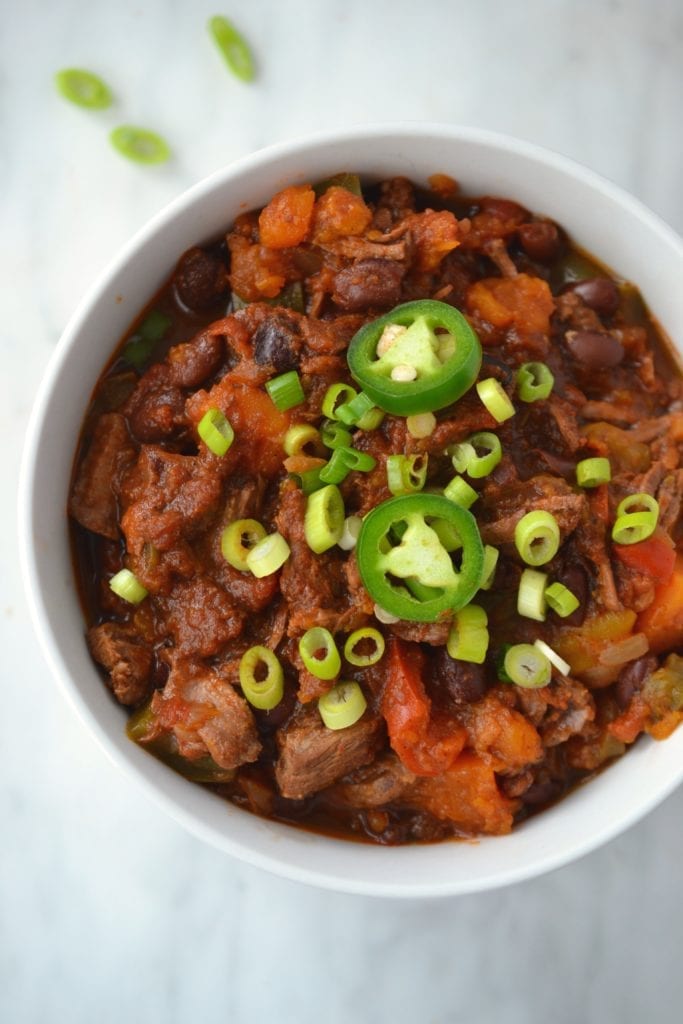 Most chili recipes use ground chicken, turkey or beef, but to give this SCD legal more substance, I swapped the ground meat for shredded brisket which gives the chili some chunkiness and lets be honest, who doesn't love meat that is melt in your mouth tender. This is one of the first times I've cooked brisket and am happy with the results, although that being said I think you could easily swap it for another cut of stewing meat such as chuck roast or short ribs.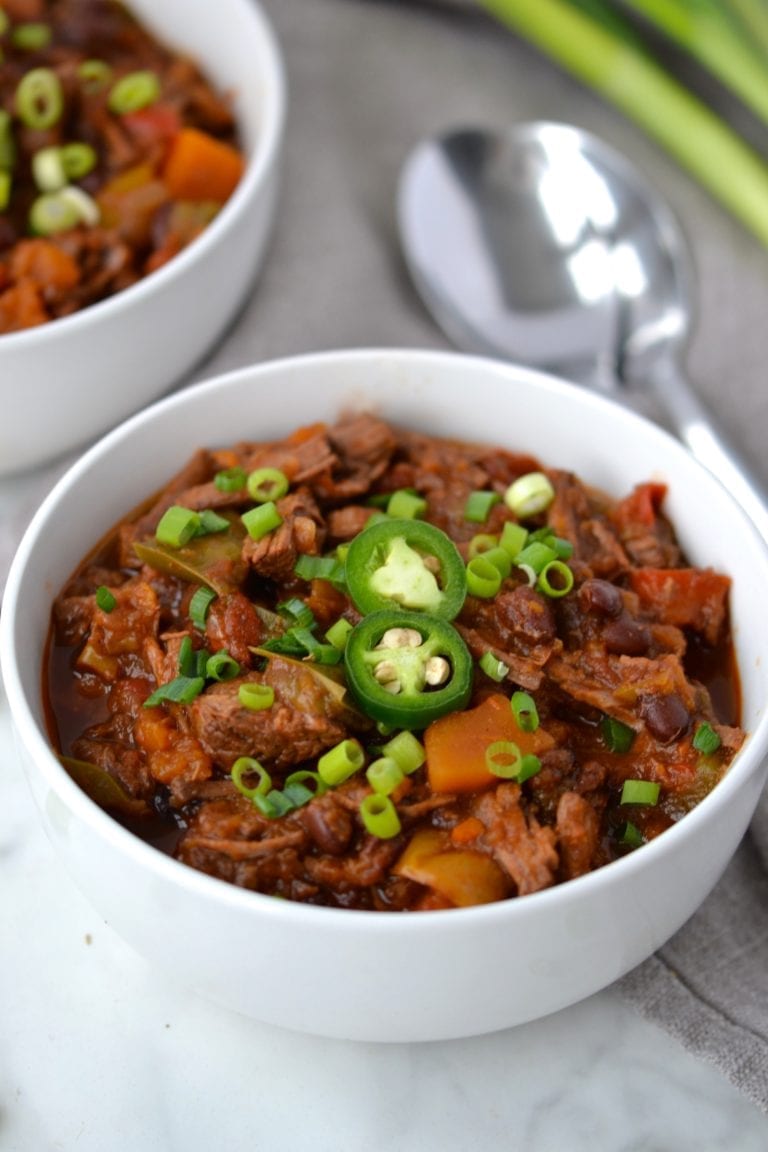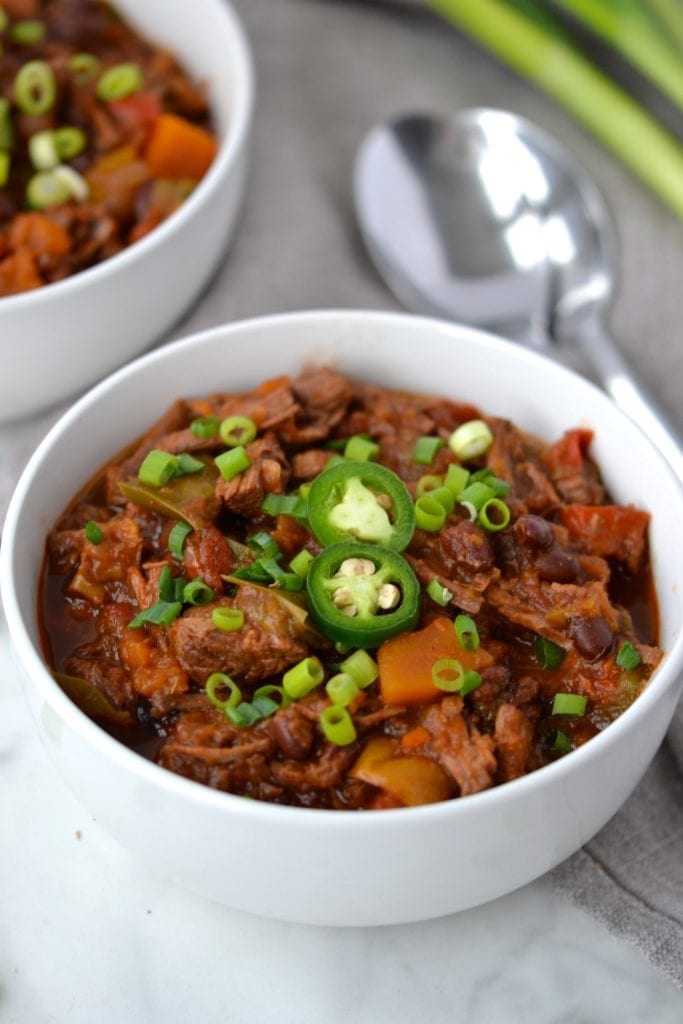 Although butternut squash is not a traditional ingredient in chili, the cubes add a tender texture, which quite closely resembles beans when cooked for a few hours. After about an hour of cooking taste the sauce and add more spices to suit your taste, I love spicy food, but for some 2 tablespoons to ancho chillies might be too much.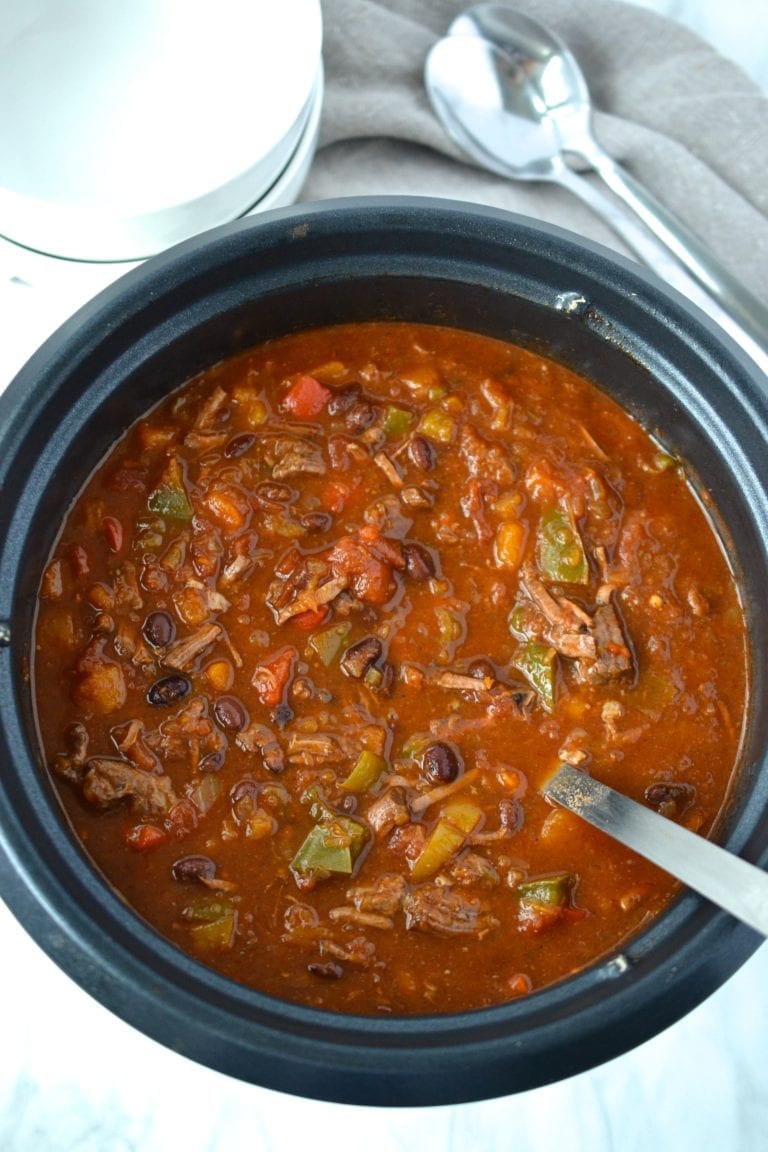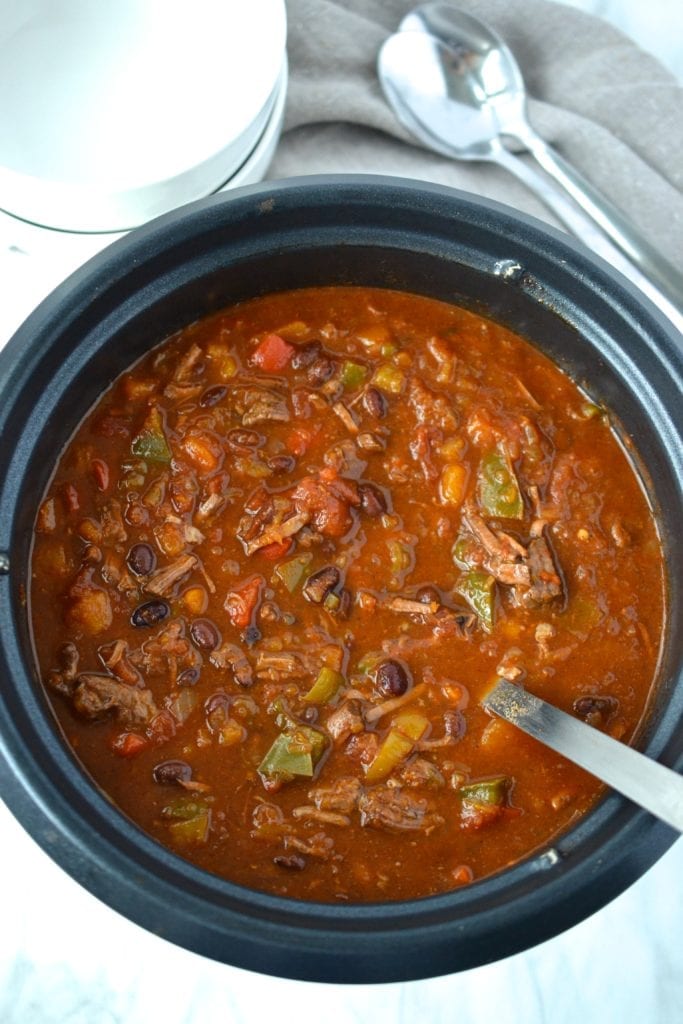 There is so much delicious flavour packed into this recipe that I love eating it on its own, but if you want to spice things up, serve it can be topped with jalapenos, avocado or guacamole, spring onions, salsa or cheddar cheese.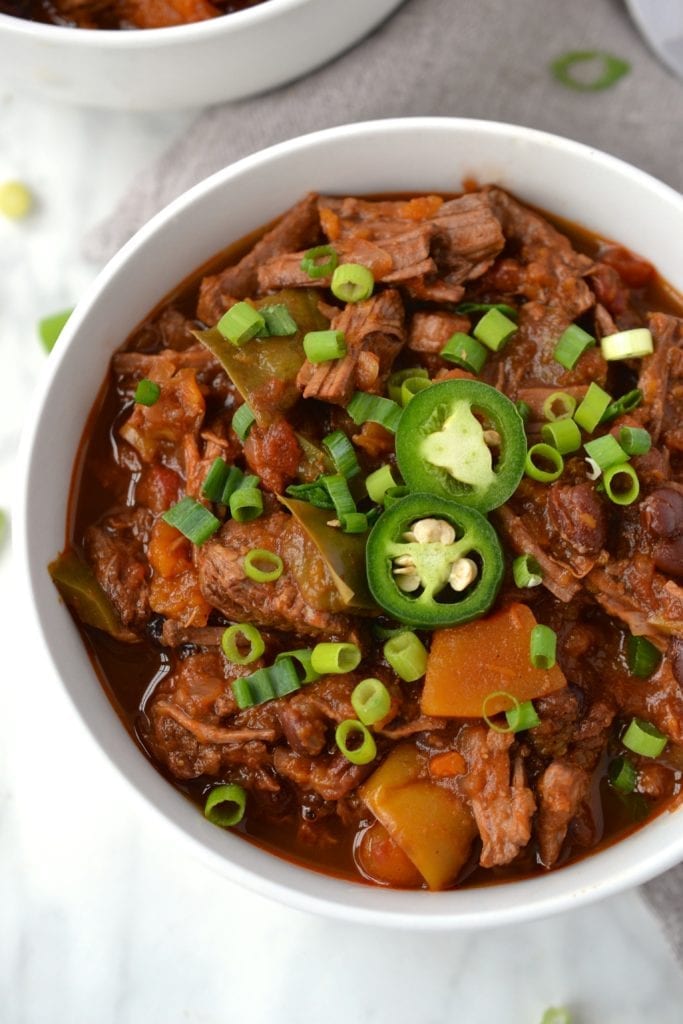 If you make this recipe let me know in the comment section below, I would love to hear what you think or take a photo and tag me (@everylastbite_) on Instagram, I love seeing your photos!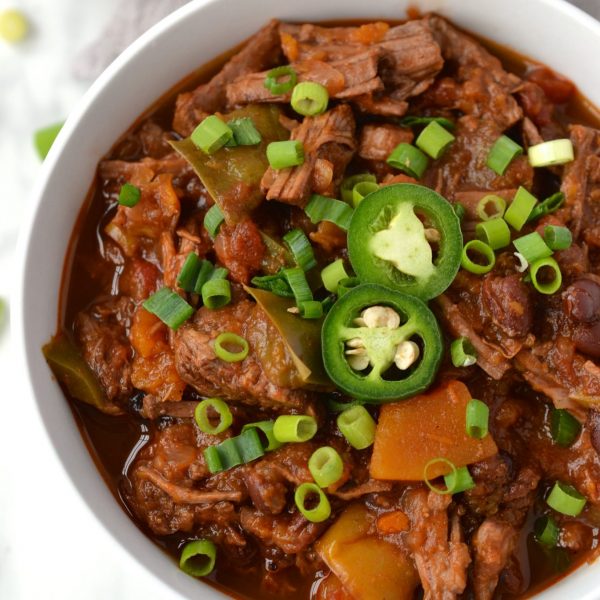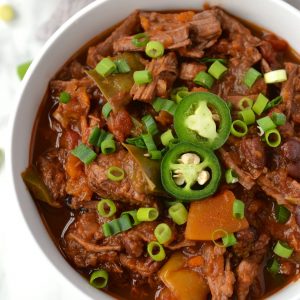 Ingredients
1 kg brisket
1 tbsp oil
salt and pepper
4 cloves garlic finely chopped
4 onions chopped
2 green peppers chopped
2 red orange or yellow peppers, chopped
3 tbsp cumin
2 tsp coriandor
2 tsp paprika
2 tbsp dried ancho chillies finely chopped
1 tsp cinnamon
1 1/2 cups beef stock
2 tbsp tomato paste
2 cups butternut squash chopped
2 cups dried black beans soaked in water overnight *
Optional Toppings
guacamole or diced avocado
fresh salsa
spring onions
sliced jalapeños
chopped tomatoes
grated cheddar cheese
Instructions
Preheat the oven to 200 degrees celsius (390 degrees farenheit)

Cut the brisket into approximately 1 inch sized cubes and season with salt and pepper

Place the oil in a large dutch oven/oven proof pot and once hot, work in batches searing the cubes of brisket on all sides. Once seared put the beef on a plate and set aside.

Next add the garlic, onions and peppers to the pan and sauté for 5 minutes until the onions become translucent. Add in the remaining ingredients including the drained black beans and cooked beef and place the pot in the oven to cook for 3 hours.

After 3 hours, remove a piece of beef from the pot and test to see if its tender. It should easily shred with a fork. If cooked remove all of the beef from the pot and shred into pieces using 2 forks. Return the shredded brisket to the pot and stir.

Serve the chili with any toppings of choice.
Notes
*Dried black beans are an ingredient which can be introduced on the Specific Carbohydrate Diet once you are completely symptom free. If you are not in remission or following a bean free diet such as Paleo, the beans can be omitted without impacting the dish.